The definition of the smartphones has been changed since past couple of years. You don't just use your smartphone to call someone these days. There are multiple apps running in the background, and the amount of work they do is exceptional. Android has always been the most innovative OS, and day-by-day it is improving and achieving a new apex. Most of the people only know how to SMS or call some because it's really tough for them to keep up with the everyday changing technology. So, here are few tricks to keep up with your Android phone.
1: Developer option
The developer option can be accessed on any Android device. The option enables the user to access and control multiple developing functions and modules. The option has many testing tools for example account tester, bad behavior, calibration tester and much more. You can also pay with the WiFi settings and booting options.
Steps to activate:
Go to Settings/About phone/
Tap multiple time on 'Build number'
Go back to setting, scroll down.
2: Phone Encryption
Phone encryption is a very complex and useful method in terms of Android security. You can encrypt your accounts, settings, downloads apps and their data, media and other files. Most of the average users think that they don't have sensitive information on their phone, but guess what, if your phone is stolen then the thief will have access to your emails, photographs, data files, contacts, chats.
(On Android 5.1 and above, encryption doesn't require a PIN or password, but it's highly recommended since not having one would reduce the effectiveness of the encryption.)
Steps to activate:
Make sure your phone is fully charged.
Go to Settings/Security/Encryption
Press 'Encrypt phone'
Make sure to have a lock screen password.
The process will take 1-2 hour, depending on the data you have.
If you're rooted, make sure to unroot the phone it may cause some technical problem.
3: Privacy Guard
Another exciting feature in the Android smartphone is the Privacy guard, which prevent third-party apps so they can't access your phone's data. If an app wants any information from your phone, it will simply ask you a prompt message to verify and give access. Some of the major applications anonymously upload user information to their database for f
Steps to activate:
Go to Settings/Privacy/Privacy Guard
Turn on 'Enabled by default'
4: Enable per-app battery usages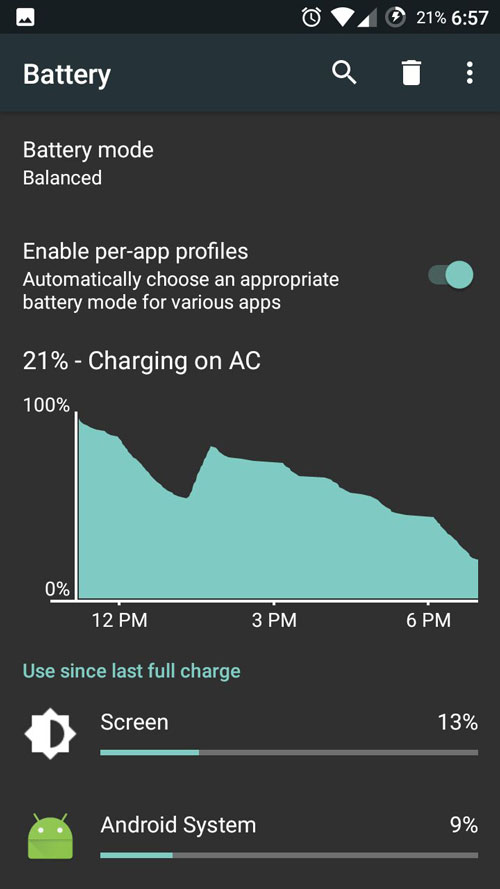 Most of the people don't know about this feature because it was initially launched in Android Marshmallow. The feature allows the OS to choose an appropriate battery mode for various apps, which really helps a lot in terms of battery usages.
Steps to activate:
Click on the battery icon in the status bar.
Turn on 'Enable per-app battery usages'
5: Smart Lock
Smart lock is a feature for those people, who want to access their smartphone in a jiffy. The smart lock enables the user to activate multiple unlocking methods.
On-body detection: Device will be unlocked while it's with you.
Trusted place: You can add the location where the device will always be unlocked eg. Home.
Trusted device: You can add devices to keep the phone unlocked when your Bluetooth device is near it.
Trusted face: Can set up facial recognition.
Trusted voice: Device will unlock when you voice is recognised.
Steps to activate:
Go to Settings/lock screen/Smart lock
Select the locking method.
That's all for this guys, stay tuned for more update and please subscribe to our YouTube channel for awesome videos 🙂