There is an app for everything out there. The Google Play Store is flooded with numerous apps, and most of them have the same feature. Whether you want a web browser or shopping app or a music player. There are hundreds of apps for those things. Like one day, I was confused in choosing an app to identify music because the lyrics were in a different language. Well, don't panic at all if you have been in the same situation where you can't figure out 'what song is this'. Because we have got your back. Today we are here with some of the best app that can help you in identifying music.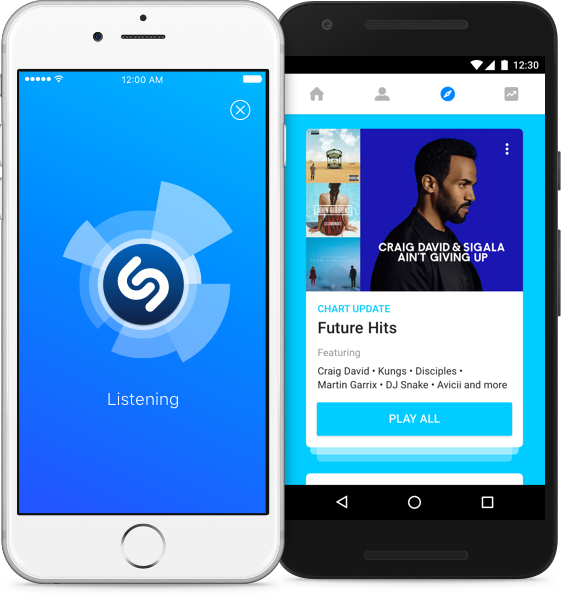 Shazam is literally the best app out there when it comes to identifying music. The app literally started the trend of music identification system. Its music integration is so fast that it can detect the song in 2 or three seconds. The app us available for Android, Windows and iOS. It can also record songs clip offline and will notify you about the song when you're online. You can also Sync your identified song among other devices, and for that, you have to create an account. Which is free.
The app also has a Lite version which is also a very good app. With all those features Shazam stands as one of the best app to find out what song is playing.
Sound hound is a good app when it comes to music identification. Soundhound beats Shazam in some features, which is that you can even hum a tune to find out the song. The app is very good in identifying songs, even when you're just humming the part of a song. This feature is astonishing because you're not going to stop everywhere when you hear a song and open Shazam and try to find out what song is this. The app is available for Android, iOS and windows devices.
Musixmatch is our personal favorite and it's not because it can identify the song. The app has lots of features. You have maybe used several music players like play music, Spotify or Power amp. But let me assure you that Musixmatch is very different from all that. It not just plays the music but it also shows the lyrics with them. Musixmatch has also its own equaliser and with its materialistic UI, It looks more attractive. Musixmatch is the world's largest lyrics catalogue, that lets you enjoy. It has been featured among the "Best Apps 2014 and 2015" selection on Google Play Store.
MusicID is also a music identification app, which has a very simple and materialistic UI. You just have to start the app and the rest is taken care off. The app also saves the searches in the app, which is very helpful. The app also provides a link to buy the song on Amazon. Works similarly to Shazam but the overall usability of the app is good. Our suggestion, if you're using Shazam don't use it.
Virtual Assistants
So, far the virtual assistants that we use in daily life such as google now, Siri and Cortana can also recognise music and identify the song. You just have to say the right command to the right Assistant.
For Siri: "What song is playing right now?", "Name that song.", "What song is this?"
For Google now: "What song is this?"," What is this song?", "Name this song."
For Cortana: "What song is playing?"
In our experience, we found out that these assistants seems to be good but they are not as much as good as Shazam or another music identification app.
We had a lot of fun trying these apps, and what we experienced were amazing. Shazam and Musixmatch are awesome apps and we do recommend you to try them out if you haven't. SoundHoud is a unique concept but the app is lacking at some point, although the app interface and performance is very good.
If we missed any amazing app, please mention them in the comment section below. Also feel free to share your view about these Apps. That's all for this guys, stay tuned for next update.