The VivoBook lineup from Asus is one of the most affordable yet luxuries and premium series we have ever used till now. They have some unique designs with their high-end specification and portability. The best part is the Quality. You will never be going to have a single complaint regarding the built of VivoBook or any Asus Product. If you are a business person or even a college student this budget 15″ portable light high-end laptop won't be affecting your pocket much.
So, today to review we are having Asus VivoBook lineup, Asus VivoBook S510UN. This is one of the best among the hardware with price available in the market. The laptop from Asus is priced at 57,990 INR for i5 and 8GB model whereas today we are having the higher end model with us with i7 and 16GB Memory, which I was unable to find online.
Asus Zenbook UX430UA
Screen
15.6″, 1920 x 1080px, IPS, non-touch, Matt
Processor
Intel Core i7- 8550U CPU
Video
Intel UHD 620 and 2 GB NVIDIA MX150 for Performance
Memory
16 GB DDR4 2133 MHz
Storage
256 GB (SSD)
Connectivity
Wifi, Bluetooth 4.1
Ports
1x USB 3.1 Type-C gen 1, mic/headphone, HDMI, SD Card, 2xUSB 2.0
Battery
42 WHrs, 3-cell Li-Ion
Operating system
Windows 10
Design and Built
Coming to the design part, here with Asus VivoBook S510UN, comes with a very unique brushed metal design which we have never seen on any other laptop. The Quality which they have used it on top but still too low down the price they have used high-quality plastic. The body part of the S510UN is made up of plastic. The top side of the lid has a Brushed metal finish with some added pattern feel on it which do attract fingerprints a bit and but give a premium feel to you.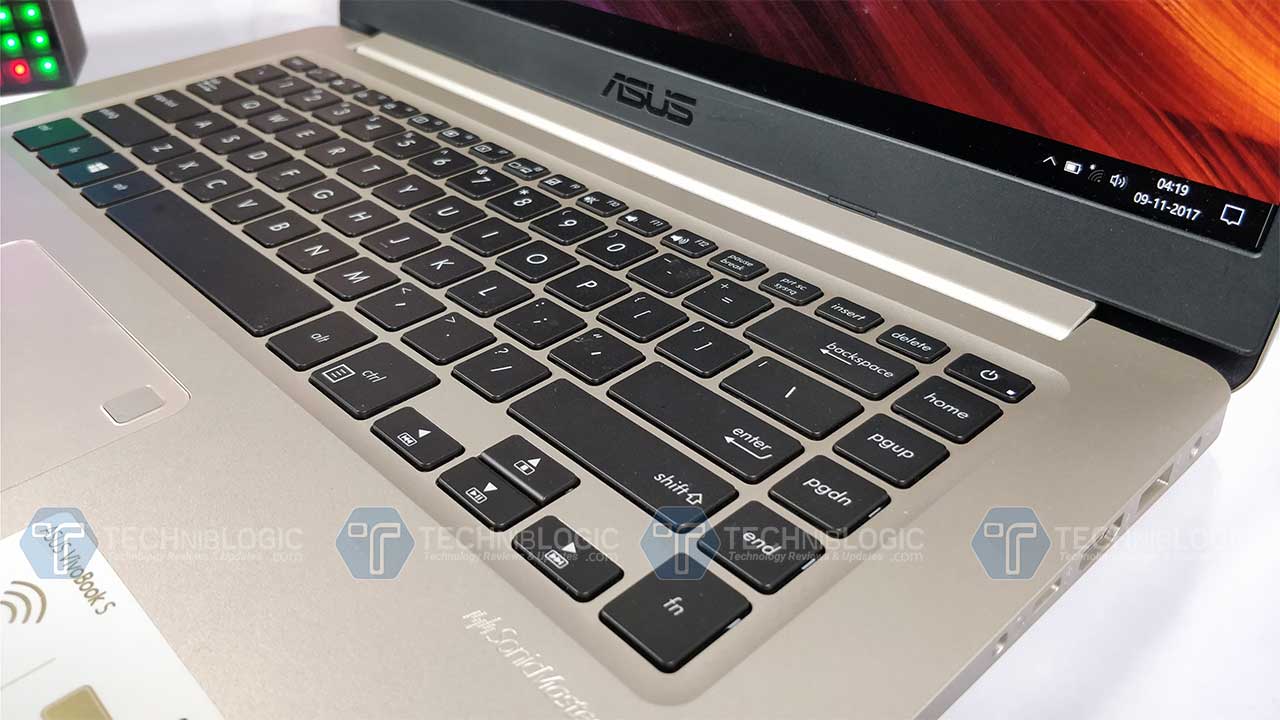 Coming to the other area of a laptop like a palm rest area, it has proper space which is needed by a person which working on it. We also get a keyboard without numpad still it works well. The keys also make a sound while we use them. They are made up of plastic and not rubber which makes it way better while typing. The spacing between keys are proper and are well comfortable while typing. It feels like you are using some kind of ultrabook to type, which makes you work way longer on it.
It has a decent camera for a web face to face chatting with your friends. While doing some live session and for skype video calls the webcam will be working -perfectly. In low light, it will struggle a bit, due to which I will suggest you use additional LED light in front of your face. The only which is faced in WebCam is that it only supports 480p video and no 720p video.
The trackpad which we get in on VivoBook S510UN works great. It is as smooth as we get in any Macbook. We also get a fingerprint sensor inbuilt in the trackpad which is a kind of positive as well as negative point and many users need larger space for travel which might affect the fingerprint sensor placement. Still, the fingerprint sensor works well and is accurate.
Ports
The best part of this laptop is we never ran out of ports. We have all the ports which are needed by a person on their regular usage. We get USP Type C 3.0 (USB 1st Gen). We also get 1 USB 3.0 and 2 USB 2.0. We also get a Full-Size HDMI port which is sometimes necessary for college while giving a presentation. On the same side, we also get 3.5mm Audio jack and power connection. We are not getting an Ethernet port on the laptop but we can always use a USB to Ethernet connector for that.
Coming to the other side we get different light indicators a 2XUSB 2.0 Port and a Full-Size Card Slot. This kind of card slot is mandatory these days as everyone has there DSLR with them most of the time.
Here we are not getting any DVD drive but we can always use a USB Drive if needed. Rest, the bottom part is completely sealed off and the battery is not removable unless you open up the screws and take the battery out like we do on other premium laptops.
Display
The VivoBook S510UN gets a 15.6-inch FHD display, with a resolution of 1920 x 1080px. The result is we get just 7.8mm bezels on the sides, which I loved the most. Not like large ugly bezels which we get in 15.6-inch models.
Now, this is not enough the display which we get is covered with an anti-glare coating which dismisses the reflections and makes it a worth buy for best display. Watching content like movies will just going to give you an amazing experience. The display is reproducing vivid colors which offer sharp, bright, and great picture quality. Adding to it with matt finish as mentioned above, it also makes the viewing angles great.
This panel adds up the max score till now when compared with another laptop in this premium segment.
Sound
The stereo speakers which we get on VivoBook S510UN are mounted at the down portion. It is designed in a way that the sound bounces upward from the table and get back to your ears. To be honest, this time speakers don't seem to be the best which we get. Still, i would say it manageable and quite loud when listening in the calm room. Overall for the great audio experience, you need external speakers attached to it.
Performance
Coming to the main part which is performance, here Asus VivoBook S510UN comes with i7- 8550U CPU which is supported with 16GB and a 128GB SSD and 1TB Hard drive. We also get another version where we get 8th Gen Core i5-CPU and 1TB Hard Drive. Both the variant is also packed with NVIDIA MX150 with an integrated Intel HD 620 graphics card. With these two cards we get easily do 720p gaming, Photo and video editing, Watching 4k movies and Web Browsing. We can also do normal 4k Video editing in Premiere Pro. I think with this power in portability you will just love it.
Battery life
According to my usage, while working on a word or using a web browser for typing articles and surfing it was leading me about 6 hours and rest depends on work to work. If you are doing Photoshop, Premier pro and other high-intensity work it will hardly lead you to about 3 to 4 hours battery backup. At this price, it seems to be ok to me because you can always upgrade the battery from external market according to your usage and work. We are getting a 42Wh battery which seems to be quite promising this time.
Verdict
Personally, when we consider the quality and high-end specification you are going to love it. It is offering best latest Notebook Graphic card which can handle high-end games obviously on medium setting but GTA  can be played at High setting too. We can render easily with premier pro and other application perfectly. The best part is that we are getting the best display with the proper portability of use, anywhere anytime.
Pros
Display
Keyboard
Trackpad Smoothness
Premium Built
Great Performance
Price
Cons