Microsoft Edge is certainly the most interesting web browser we have seen, and I'm not just talking about the design and some certain features to brag about. The browser in itself is very precise at every position in terms of performance. So, we thought to put a stop on some of the most popular web browsers such as Firefox and Chrome and use the Microsoft Edge for a while.
Well, here is what we found. The Edge browser seemed user-friendly, delivered the most battery efficient performance so far and has some of the unique features but still, it is not getting much attention in compared to Firefox or Chrome. So, what are we missing? Add-ons.
The idea of customizing the functionality of the browser to your own good is the way things are going these days. Firefox and Chrome have the largest Add-on store on the web, and all of them are unique in their own way. So, if we could install Add-ons in Edge, then it would be amazing, isn't it? Well, we can actually.
Here are Top 5 Best Extensions for Microsoft Edge
To all those people who are using the Microsoft Edge browse as their daily browser, here are Best Extensions for Microsoft Edge that you need so far.
Ghostry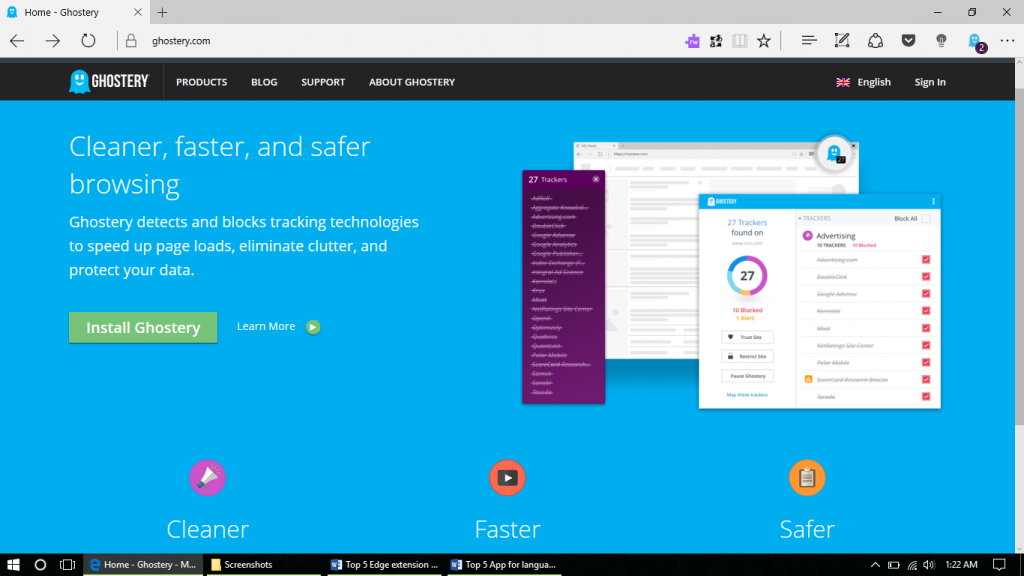 Ghostry is a popular extension among techies. The extension is available for nearly every popular web browser out there. And if you haven't heard about it then probably you are using an Add-blocker as an alternate extension. Fun facts about Ghostry is, it gives you full control on every Advertisement out there, which is insane.
So, let's see how it works? Basically, every advertisement that you see is generally located there by Google AdSense, and to show you the most trending Ad google uses tools to track your browsing history such as google analytics. It is basically everywhere, every sane person is giving their browsing metadata to google, so then can put Ads on their website. Ghostry blocks that specific tool, so it can't track your browsing history anymore.
So, if the AdSense doesn't detect that somebody is browsing the page, it will never show you any Ads. Amazing isn't it. Well, there are hundreds of website doing the same thing as Google but on a small scale. And thankfully Ghostry is doing an amazing job in blocking all of them. You heard it; all of them.
Add-blocker plus
Ad blocker plus is an another alternate method to block ads. You just need to install it once, click on the block all ads. It will do its job. The one thing about Ad blocker plus which needs to get better is the control over the blocking method. You can't block some certain ads and let other ads be shown. And sometimes, the Ad blocker doesn't work at all. It has its limit in terms of filtering ads.
So, we will still recommend you in case you don't want to manually control all the ads like Ghostry.
Pocket
Pocket is simply amazing. The extension lets you save any web page on the internet to an external server. Which you can see and read later from any internet device. A very amazing and innovative extension so far.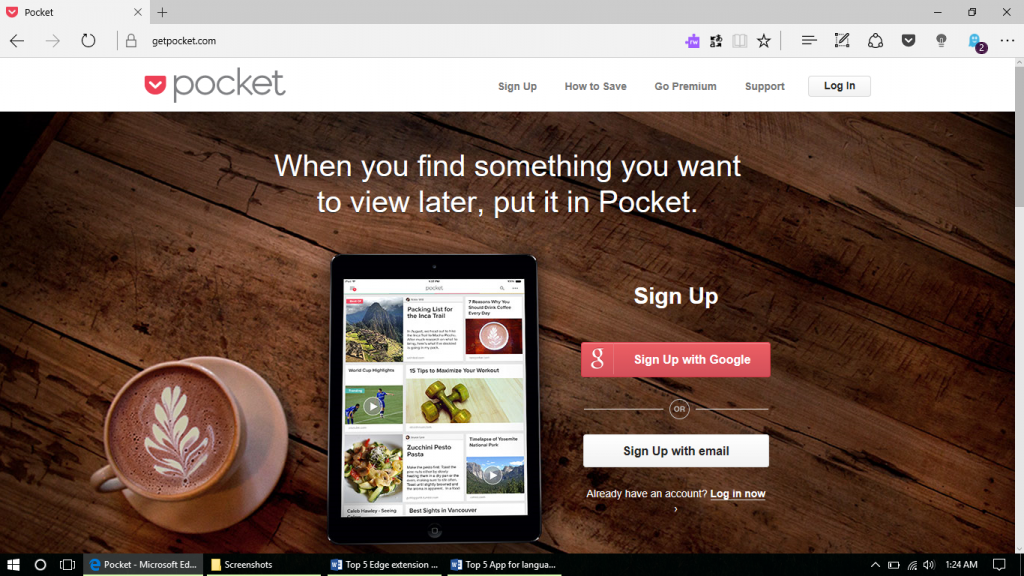 Using Pocket is simple, you need to sign up and create an account. Login from your default browser and leave it; just leave it. Whenever you see or read any interesting article you just have to click on the extension and it will save the link to the web page in your account. Now, you can install pocket on multiple devices, so if you save a link from the laptop it will be automatically stored on your smartphone too. The smartphone apps also save the article offline so you can read it later.
Mouse gesture
Mouse gestures are brilliant for people who are in a hurry. It simplifies the workload in a lot of ways. In order to activate an action, you need to press right click and move the pointer to make the appropriate gesture.
There are plenty of gesture to make your browsing experience more easy and friendly. These gestures are also customizable according to user's feasibility.
Translator for Microsoft Edge
Translators are useful in no doubt. With Microsoft Edge translator you can translate foreign web pages in a go. Just select a default language and the translator will convert every word and show you the web page in your language. There are more than 50 languages listed in the Edge translator, which are pretty much enough for your daily use.
We had a lot of fun trying Edge and using amazing extensions. Ghostry is our most favorite extension so far. Pocket is also an amazing app to use if you are a reading person. Although, all of these extensions are available for Chrome and Firefox, which makes them better, still Edge is the most battery efficient web browser in the market.
If we missed any of Extensions for Microsoft Edge, please mention them below. Also feel free to share your view about these add-on extensions in the comment section below. That's all for this guys, stay tuned for next update.