There are a whole lot of softwares which are available online to recover your lost data from your computer and laptop hard disk but what if we need to restore your deleted data or we can say accidentally deleted data from any iOS device. As iOS users are always restricted with different softwares, app so as happens with lost data. We cannot recover our data on iPhones, iPad's and different other iOS devices easily.
But to easy down the whole process here comes the iMyfone with their latest software release iMyfone D-Back which will help all the users, in restoring back there data. This software is a Data Recovery tool for iPhones & iPads and other iOS devices. Using this software anyone can easily recover lost files, photos, videos and many other things with just few simple steps.
So, Let's start with iMyfone D-Back review and see how we can restore our data easily:
Now, coming to the software, this is the only software as of now which is having so many features and functions which can be used in end to recover almost your whole data from any iOS device. I know this software is paid, but take my words it is worth to buy just because of so many premium features which are available with it.
You can always use a trial version to test it, but i will prefer you to get a paid version after using trial version for better unlocked premium features.Whether you've accidentally deleted an important photos, files or any kind of data or your device got damaged, iMyfone D-back recovery software is always there to restore it all. always comes handy in these type of situations.
The good thing is that this software is available for both Mac & Windows. You can install it very easily on any PC, Laptop or MAC and can restore all your data with ust few simple steps.
So, if you are a trial user may be some of the feature won't work for you, will suggest you to get a paid version.
Steps to Install and use:
Launch iMyfone D-Back iPhone Data Recovery software.

2. Click Start and select the type of files you want to recover (you can select multiple categories also), then click Next.
3. Choose the way you lost your data and click Next.
4. The software will select the possible way from where you can recover the data and will switch to that tab immediately.
5. After that you need to connect your phone/select the backup and login to iCloud.
6. After scanning the location, you will be presented with the data you can recover back.
7. Select the files you need to recover and click Recover.
You can save the recovery files on your PC and then sync them back to the iPhone or iPad.
How to Fix your iPhone:
If your iPhone got stuck on on Apple logo while upgrading your phone or jailbreaking it then this software will help you to get back on track and you don't need to worry anymore.
Steps:
Launch iMyfone D-Back for Windows and select Fix iOS System tab.
2. Now connect your iPhone to the PC and click Start.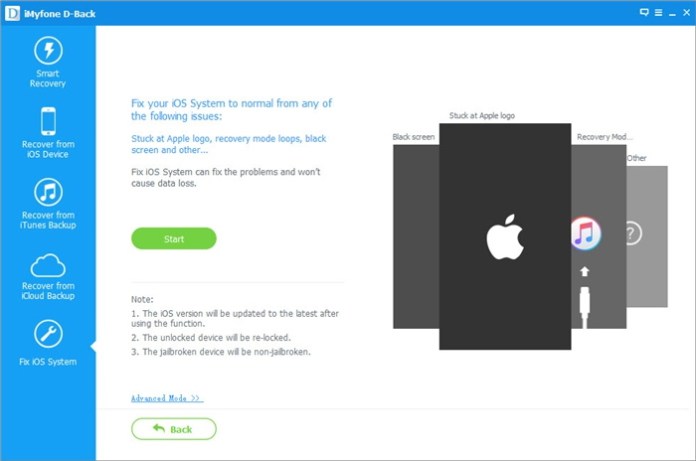 3. D-Back will detect and list the latest firmware for your device, click the Download button.
4. After downloading the firmware, D-Back starts to repair your device.
5. After a few minutes, your iPhone will reboot and start to breathe again.
Main Features
Recover deleted data from the any iOS device.
Recover data using iTunes or iCloud when you lost your iPhone.
Fix your iPhone if got stuck on Apple logo while jailbreaking or upgrading.
Unlock locked iPhone if you forgot the password.
Recover the data to your PC with one click.
Recover call history, messages and call history.
You can recover WhatsApp, WeChat or Skype chats.
iMyFone D-Back iPhone Data Recovery software is available for Windows and Mac both. so you can try this software 7-day for free as a trial version. After that, you need to buy Personal License for $39.95, Family License for $49.95 and Business License for $369.95.