Xiaomi has launched MIUI 10 in India, which is faster than ever. It focuses on four points that are speed, design, sound and AI portraits. The UI is now available for beta testers. With it, the company has taken a whole new step in providing a more amazing user experience. The company claims that it is the newest android based operating system, that is powered by AI. They have also introduced the global version of ROM that comes with new additional features and designs. Here are the Top 15 Best MIUI 10 Features List :
Top 15 MIUI 10 Features List:
AI Portrait
The MIUI 10 will let its users take Bokeh depth-of-field shots without requiring a dual camera setup; from both front and rear cameras. It also works in low light conditions. This feature is software based which uses algorithms to identify the foreground and blur out the background. This feature will work for both single and dual camera phones. These devices will support AI Portrait mode after upgrading to MIUI 10.
Front camera: Mi MIX 2/Mi 6/Mi 5s Plus/Mi 5s/Mi 5/Mi Note 2/Mi Max 2/Mi Max/Redmi Note 5(India)/Redmi Note 4(India)/Redmi Note 4X/Redmi Note 3/Redmi 5/Redmi 4/Redmi 4X
Also See: Best Video Sites Like YouTube But Better
Rear camera: Mi MIX 2/Mi 5s/Mi 5s Plus/Mi 5/Mi Note 2/Mi Max 2/Mi Max/Redmi Note 4(India)/Redmi Note 4X/Redmi Note 3/Redmi 5/Redmi 4/Redmi 4X More devices will be compatible soon. Stay tuned.
Speed
The new UI is faster than ever. The company has focused on creating stability and system optimizations it the OS. You'll probably spend zero seconds to load an app. The AI will read the user's pattern of opening/closing of the apps to automatically opening the app in the background, therefore reducing the load time of the app and UI functions.
AI Voice Assistant
It's also known as a virtual assistant, which is an application program that understands natural language voice commands and completes tasks for the user. It helps by giving updates and assistant in your schedule. It includes the ability to ask for simple things such as calling, sending SMS, alarms, navigations and translation.
Recent Apps menu
The overall UI has been altered to match the 18:9 display. The recent apps now appear vertically, which makes it look better. This feature makes it easy to manage apps by swiping away the apps you want, you can also try the long press on the floating app windows for more options. It provides more information, which is properly managed on a single screen.
Support for bezel less phones
Newer device designs have extremely narrow bezels and allowing for more screen. This has become an increasingly important design factor for consumers: It reduces the unintentional inputs on a touch screen. Xiaomi makes it easier for you to operate your phone by giving a more incredible experience, especially on bezel less screen.
Better control for MI Ecosystem devices
MIUI 10 provides an ease to control Mi ecosystem devices. With the help of it we are able to make a positive impact in our lifestyle by bringing even more convenience to the consumers around the world. The smart products that's is ready to pair will automatically appear on your smartphone screen.
Scan Paytm QR code
You can use your camera app to scan the QR code to make Paytm payments. You can make instant digital and utility payments just by scanning the Paytm QR code. After scanning the QR code, you can directly complete the payment. Xiaomi provides its user with additional services as well.
New nature inspired notification audio
MIUI 10 features free sounds of nature that you can use as a customised ringtone, notification, alarm, SMS alert. It provides pleasant unobtrusive natural sound. You can personalize your smartphone with a wide range of natural sound effects. It will make different natural sounds, which you will hear with notifications.
Quick menus in messages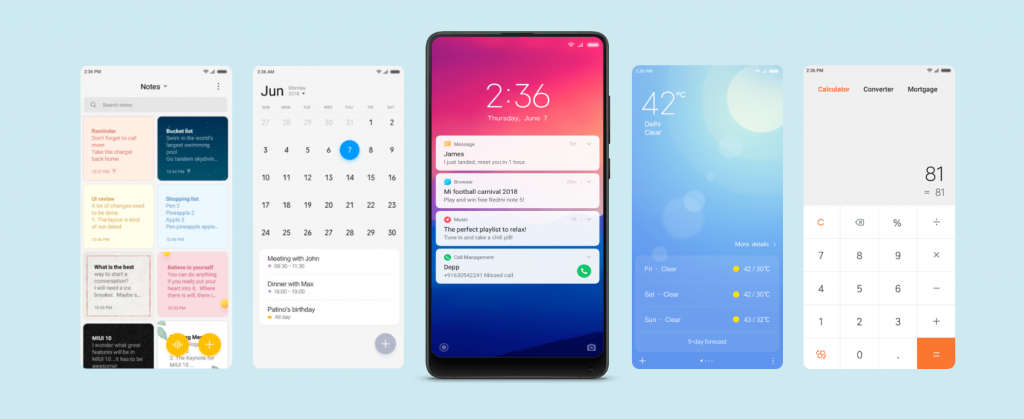 MIUI 10 removes the reply buttons for messages and instead it introduces quick menus that lets you open specific apps and websites. Quick menu is available for more than 100 services and apps in India. It recognizes your train ticket SMS messages and intelligently turns them into simple cards with all the important information on it.
Redesigned quick settings and notifications shade
It includes new layouts for things like contact info and profile pictures. It minimises the notification seen. It integrates smart replies into notifications on messaging apps. It includes interesting visual changes.
MIUI lab
MIUI 10 lets users try some experimental features directly on their device. MIUI lab is an exclusive feature of MIUI China ROM as of now. It lets users to give an early taste of its unlaunched features. The MIUI lab will hold an array of experimental features for the upcoming MIUI interfaces.
Autofill support
The UI would bring the highly anticipated Autofill feature. This meant that password managers could be used to log into applications on android. It can automatically fill username and password across different apps and services.
Android P inspired volume control
The volume adjustment bar is now in the shape of an elongated pill aligned vertically on the side of the screen, sound control for notifications and alarm also look different. It is evident by a new color scheme and style, which extends to the shape of icons and use of rounded rectangles in UI elements.
Picture – in-picture mode
Picture – in-picture is used to shrink the video and lets the user watch a video in a small window on the screen while navigating between apps or browsing on the main screen. The PIP mode in MIUI 10 can be used from its browser for almost all online videos. With the help of PIP mode, you can do multi-tasking.
MI browser gets progressive Web apps support
MIUI 10 is rolling out the support for progressive Web apps, which will deliver a better searching experience to the users. It is a combination of Web and app, which gives you an exact feel and response of an app which is downloaded from the play store.
Also See: 8 Best Android Emulator For Windows 10
Hope you Like this Article, don't forget to Subscribe to our Website for More Awesome Articles like this.
You May Also Like to Watch: