Are you looking for a collection of free online games to play in your free time? If yes, then this article is for you. In this article, I will be sharing some of the Best Games on Poki that you can play in your free time. Online games have transformed the way we play and interact in the digital era, and such games can sometimes help to get relief from stress.
Also Read: 10 Best Idle Games for Android Mobile
What Are Poki Games?
Poki is an online gaming platform that offers a wide selection of free games to play directly in your web browser. There are a lot of different types of games that are available on Poki, such as action, adventure, puzzle, sports, and more. The best part is that these games are easily accessible through your web browser; there is no need to download or install any game. You can dive into thrilling adventures, test your skills in challenging puzzles, or compete against players from around the globe.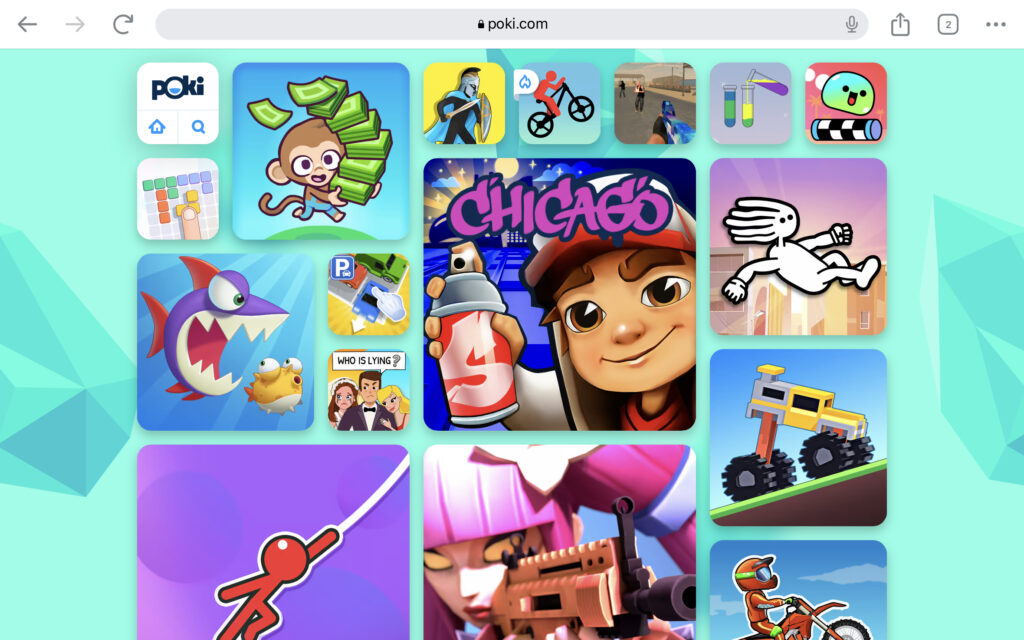 Let's have a look at the list of best games on Poki.
Racing Games on Poki
It is a 3D car racing game created by Brain Software where you can showcase your skills by sliding and drifting around corners, earning points, and unlocking new cars. There are two modes (Drift and Race mode) available in the game, and you can drive on stunning tracks as you speed through the lush trees and make the highest drift score.
If you love Bike Racing games, then this game can be a good choice for you. Moto X3M is an online bike racing game. The goal is to race your motorbike through levels and challenging tracks to overcome. Race against the clock and perform stunts to complete each level. The graphics of the game are awesome, with beautifully crafted levels straight to your browser.
Drive Mad is a fun game, and you can play this game whenever you feel bored. This game allows the player to drive a truck-like car with big tires in an adventurous manner. In the game, you have to run the car with big tires and manage the balance on bridges and obstacles.
Two-Player Games on Poki
This is a fun-loving game, and There are two characters in the game one is Boy and another is a girl. You need to work together with your partner to solve puzzles and navigate through challenging levels as Fireboy and Watergirl.
This is a hilarious and competitive shooting game where two players battle on a rooftop. There are a minimum of two and a maximum of 11 snipers can be added to the game, and you can fight with them. You can also set the level of other players, such as Easy, Medium, and Hard. The objective of this game is to knock the opponent off the roof.
Tank Trouble is another fun-loving game in which you need to control a tank and compete against your friend in a maze-like arena. The goal is to catch and destroy each other's tanks. You can play this game with a minimum of 1 player and a maximum of 3 players. You can also play this game in solo mode.
Also Read: Top 15 Cool Android Games under 50MB (You Must Download)
Action Games on Poki
Krunker.io is a pixelated 3D online multiplayer action web game where you have to engage in fast-paced multiplayer battles, showcasing your skills and reflexes in this game. You play this game as a first-person shooter (FPS), and you can join multiple game modes. I highly recommend this game to all the action lovers.
Temple Run 2 is a popular mobile game where you play as an adventurous explorer escaping from demonic monkeys. In this game, you have to run through high-level hills with obstacles and collect coins to power up. The game features exciting gameplay with stunning graphics.
Stickman Army is another amazing action game on Poki. In this game, players assume the role of a commander leading a stickman army to defend against enemy attacks. You have to be attentive to play this game properly because the enemy is coming from two sides. If you love strategic action games then you can easily spend hours of gameplay on this game.
Puzzle Games on Poki
Cut the Rope is a popular puzzle game on Poki that was developed by ZeptoLab. The game revolves around a cute little monster named Om Nom, who is always hungry for candy. The main objective of the game is to cut ropes lying in the game and feed Om Nom by solving various physics-based puzzles.
Sudoku is a popular mind puzzle game on Poki. Sudoku allows you to test your logical thinking and number-placement skills by challenging you to fill a 9×9 grid with numbers. Due to its easy-to-follow instructions and addictive nature, sudoku has gained a lot of popularity worldwide.
This is an interesting puzzle game on Poki. In this game, you need to select the pieces of images together by fitting jigsaw puzzle pieces in the right places. You can choose images from a wide range of difficulty levels and image categories.
Conclusion: Best Online Games on Poki
We know that online games have become an integral part of modern entertainment, offering a wide range of experiences and engaging gameplay. Poki is a famous online gaming platform that offers a wide selection of free games to play directly in your web browser. In this article, I have added some of the best games on Poki that you can play in your free time.
Also Read: 10 Best Online Games You Can Play With Friends Over The Internet (2023)
Do follow us for more content like this. We regularly update this post for more new Games on Poki.