Looking for the best android games for passing your Idle time? We all play mobile games while travelling or when we are bored.
Call of Duty or PubG-like games are the most popular, but we cannot play them any time while travelling as they need a good internet connection, which is not possible.
Also Read: 10 Best Casual Game for Android
After researching all the android games, we have shortlisted some of the best Idle games you can play and pass your Idle time.
Game developers have worked hard and created various games for consumers of all ages and genders. There's no one size fits all approach, but nevertheless, a certain community of people immensely enjoy idle games, and we will be talking about that in our post. Idle games tend to progress independently with minimal effort, sometimes making it fun.
What are Idle Games?
You can think of idle games as those that don't require any interaction from a player to progress in a certain way. Taking an example from the web, for example, you start off a game by mining a couple of rocks, and after a certain time, you can just stop playing the game, but the mechanism will ensure that the mining is being done in the background. So, with the least and minimal effort, a game can be played at one's own leisure. You can actually play them actively as well.
Best Idle Games for Android Mobile
1. Forager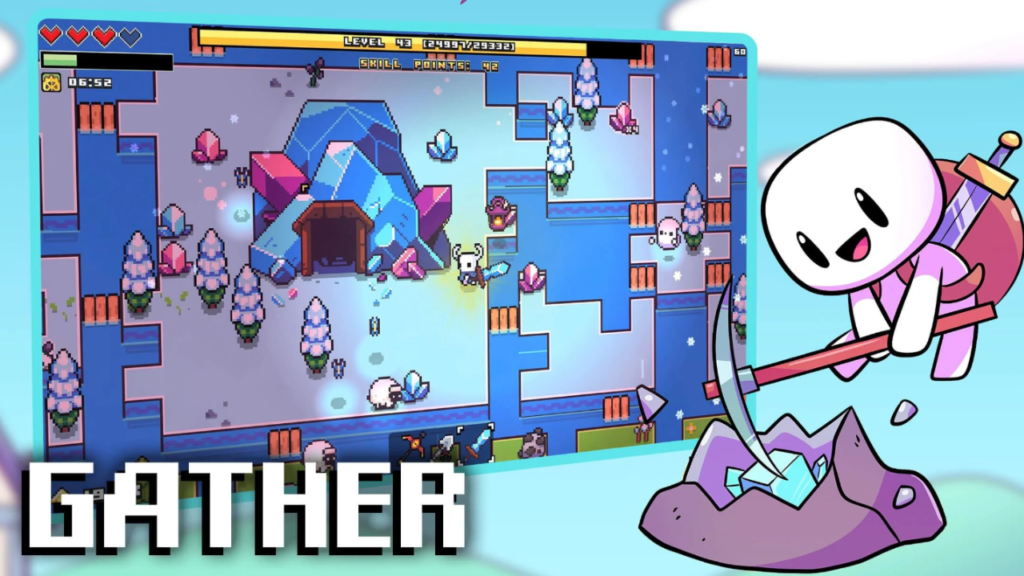 It is a beautiful 2D open world where life revolves around farming, crafting games and different kinds of exploration. It has a rating of 4.2 stars on the Google Play Store with millions of downloads. It is a very cute game to look at, and you can gather, collect and manage your resources at your pace. Make sure you craft useful items and structures to grow and level up to unlock different blueprints.
Also Read: Top 15 Cool Android Games under 50MB (You Must Download)
You will be building a base out of nothing, so you must be patient in your journey.
2. Egg, Inc.
This fun game by Auxbrain Inc holds 4.7 stars on the Google Play Store and has over 1 million downloads. It comes under the list of Editor's Choice and the game involves you selling as many eggs as you can during the gold rush. Well, the future lies in the chicken egg and that's why you got to sell them in case you were trying to find some logic in here.
Also Read: Best Games Like Clash of Clans For PC, Android & iOS
Build the hen houses, hatch those chickens, hire some drivers, launch space expeditions, and become the most sophisticated egg farm on the planet.
3. A Dark Room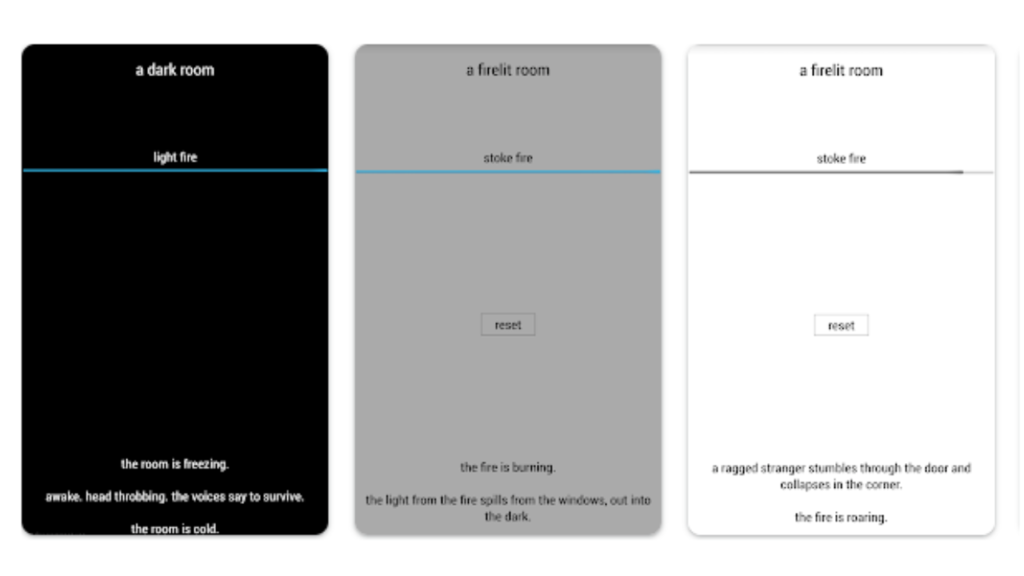 With an average rating of 4.6 stars and over 1 lakh downloads from Google Play, this game is quite an underrated gem out there that you should probably give it a shot. You will most certainly end up enjoying it.
Also Read: Best SNES Emulator for Android & Windows 10
The story is simple, and there are some cryptic wordings here and there. Instructions will flash on your screen, and you will have to make the decision on what to do next. This will decide the fate of your story, and that's how you progress in this game. There are no micro-transactions within the game, and you won't get any ads.
4. The Realm Grinder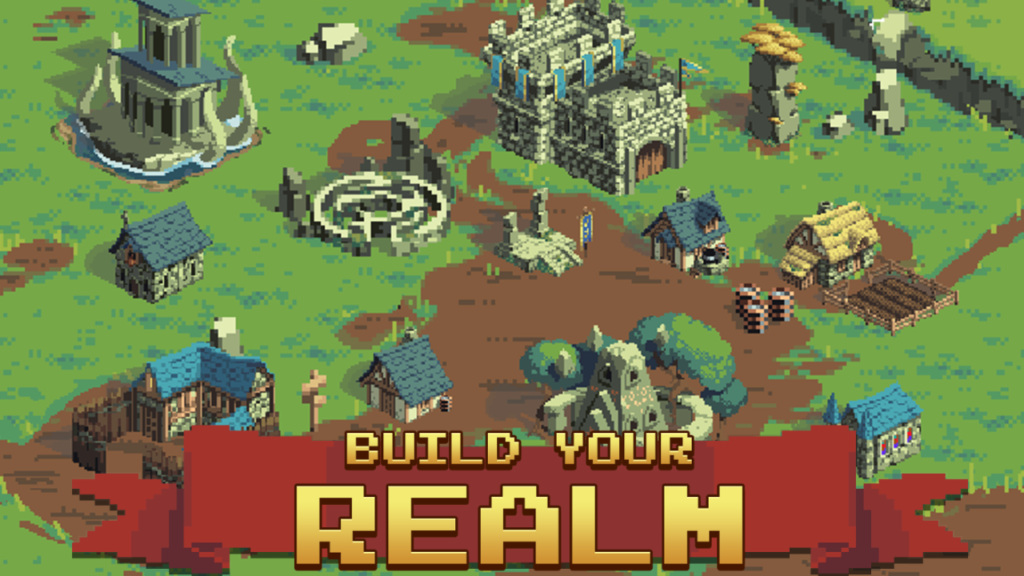 Build your strongest kingdom with the help of alliances and gain a chance to explore this in-depth RPG game created by the guys at Kongregate. This game has over 10 lakh downloads and is mostly positive, with an average rating of 3.9 stars on the Google Play Store.
Also Read: 10 Best Online Games You Can Play With Friends Over The Internet
You start with a single isolated farm and strategize to build your kingdom from that base. Use the money to grow your influence. You will be given multiple choices and methods to grow your kingdom. You can literally play this game for years and not get bored of it. There's a lot to explore and loads of skills to upgrade.
5. Adventure Capitalist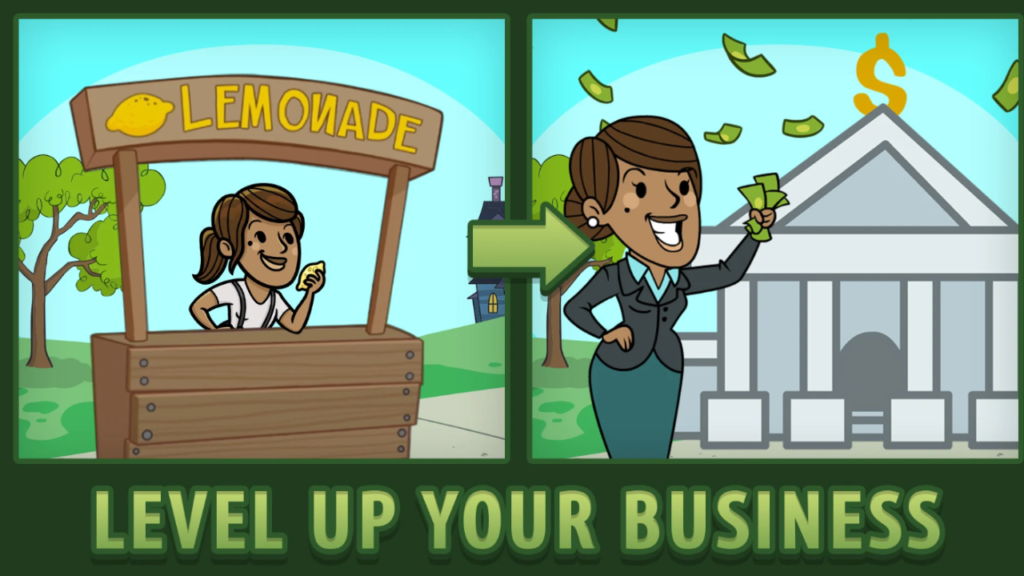 They have maintained the quality of this game over the years and it has been one of the oldest idle games to have been made. It holds a rating of 4.5 stars on Google Play Store. It has over a million downloads, and the story takes you on a journey of rags to riches.
Also Read: 5 Best Games Like Among Us
The developers claim it to be the world's greatest money-making idle game, and it's rightly said so. You will probably be starting off the game by selling refreshments from a lemonade stand, and that's your inception to become the CEO of the multinational conglomerate. You have access to customize your appearance and looks in a matter of seconds with the items you unlock as you progress in the game.
There are multiple limited-time events if you feel like pacing things up in an idle game.
6. Tap Titans 2: Idle Clicker RPG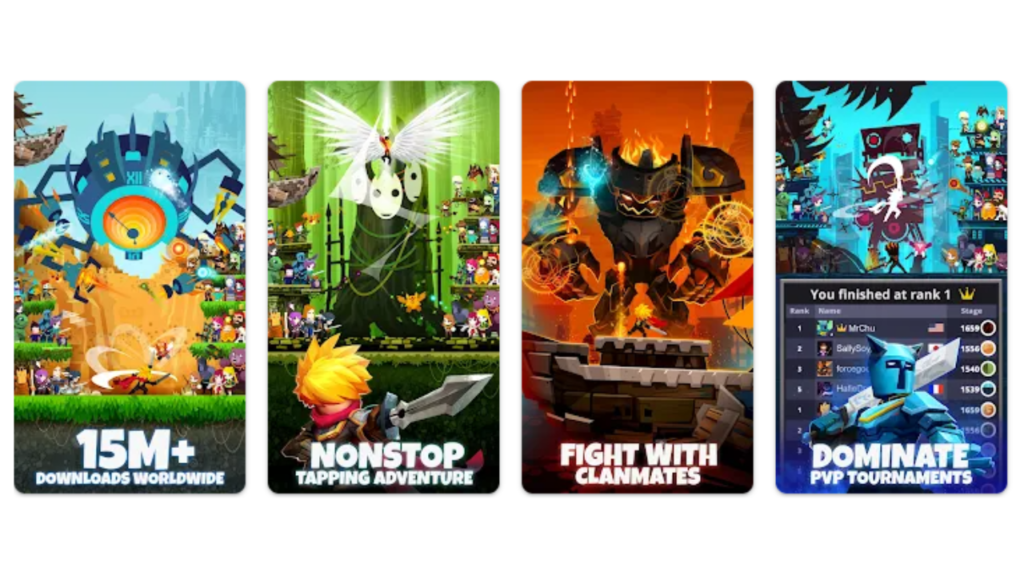 This game is under the list of Editor's Choice, so that might provide you with some clarity that it's another one of the finest idle games that have been made so far. It has over 15 million downloads with a rating of 4.6 stars on the Google Play Store.
Also Read: 8 Hidden Google Games That you Must Play
All you need to do is grab your sword, make a team of heroes and conquer the mighty titan lords across seventy freaking thousand levels. You can build your clan and fight with clanmates. There are multiple PVP tournaments that you can take part in if you want to take things up a notch. There are multiple reward systems spread across the game. Craft your gear and upgrade your hero's skill as you move up the levels.
7. Tap Tycoon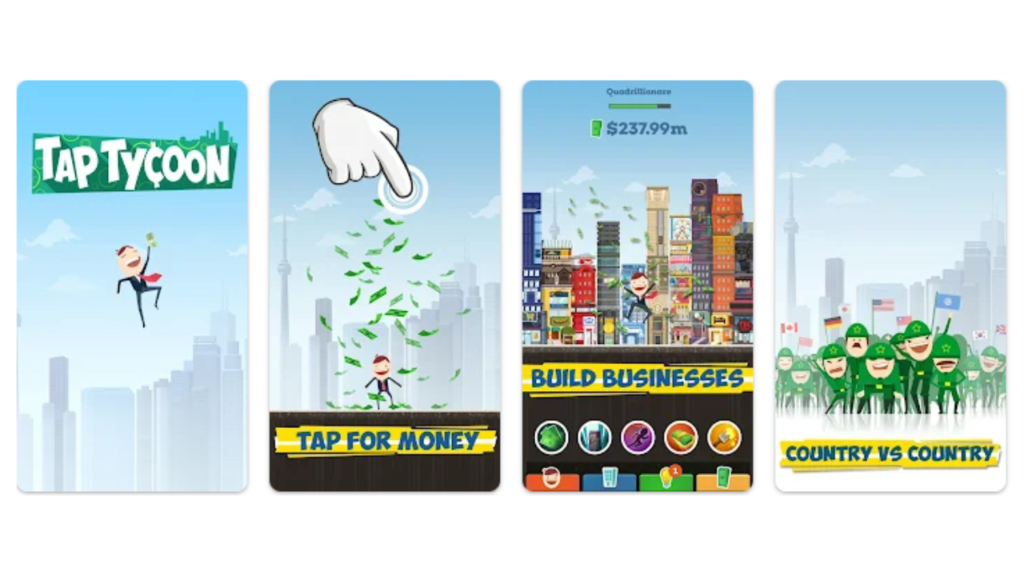 Tap Tycoon by Game Hive Corporation is another idle game that many people wouldn't have tried so far. It has a decent rating of 4.5 stars, and Android users can download it from the Google Play Store. It has over 5 million downloads.
Also Read: Best Zombie Games For Android
Fun Fact- This has been made by the developers of Tap Titans, and in this one, you have to lead your country to dominate the world. Upgrade your businesses in the 35th century, as that is the time frame you will live in when you start playing the game. You will get to invest in some really cool tech that can make or break you. There are multiple challenges, and every week the countries with the most booming businesses will be provided with rewards.
8. Bit City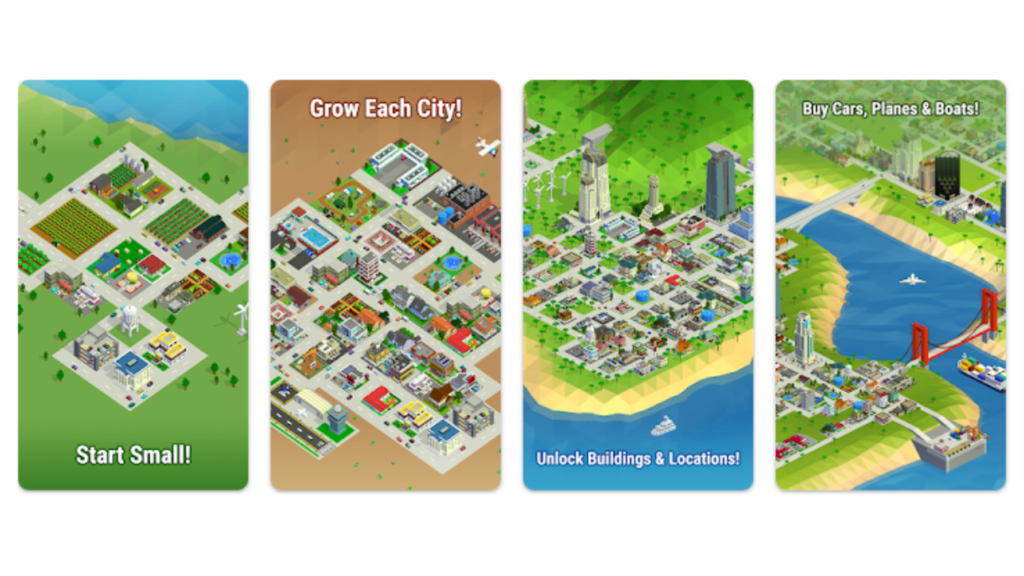 With a rating of 4.1 on the Google Play store and just over a million downloads, this game by NimbleBit LLC is another idle game you can play at your own pace. You will be given a small place and an area to start with, and that's how you will build your cities.
Also Read: 12+ Popular Google Doodle Games (3rd Game is Best)
Take care of your cities, install and develop historical monuments and skyscrapers and ensure that you build that perfect town for your citizens. And if you keep increasing the heights of the buildings, you will find a fun thing to do later. There's an option for a moon base in the game as well. Construct all important buildings, and ensure that you are constantly upgrading the routes to enable connectivity.
9. Clicker Heroes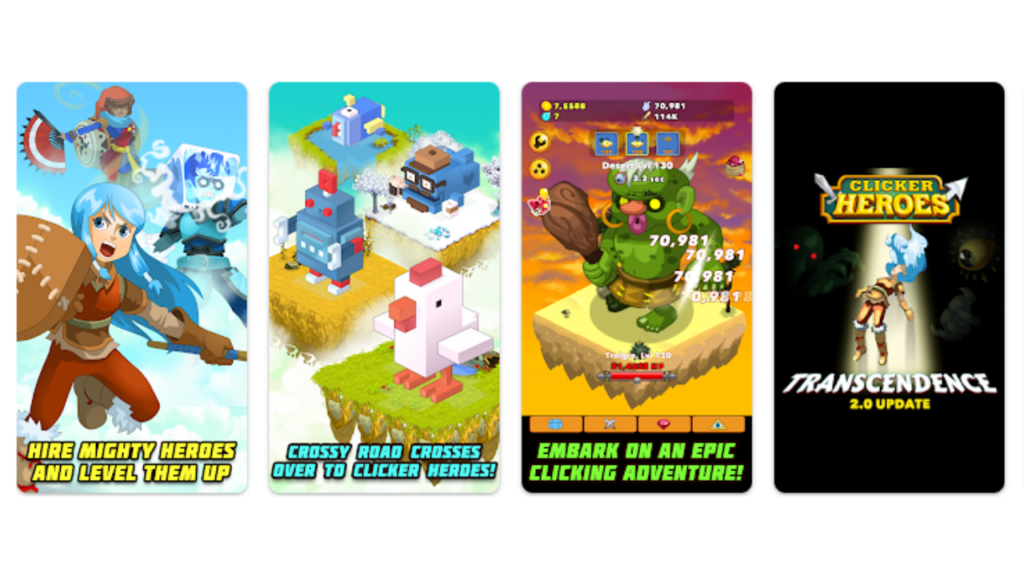 With over 5 million downloads and an average rating of 4.3 on the Google Play Store, Clicker Heroes is yet another popular game in idle games.
Also Read: 15 Best Games like PUBG Mobile for Android
It is a very popular game from PC browsers and Steam that made its way into the mobile gaming segment. It is an RPG where you have to slay down monsters and defeat bosses across 1000+ zones. Level up your heroes who have their own unique skills. Find ancients through the game for different powerful boosts. Join clans and take on the mighty immortals in the game. Lead raids and do so much more within this beautiful game.

10. Melvor Idle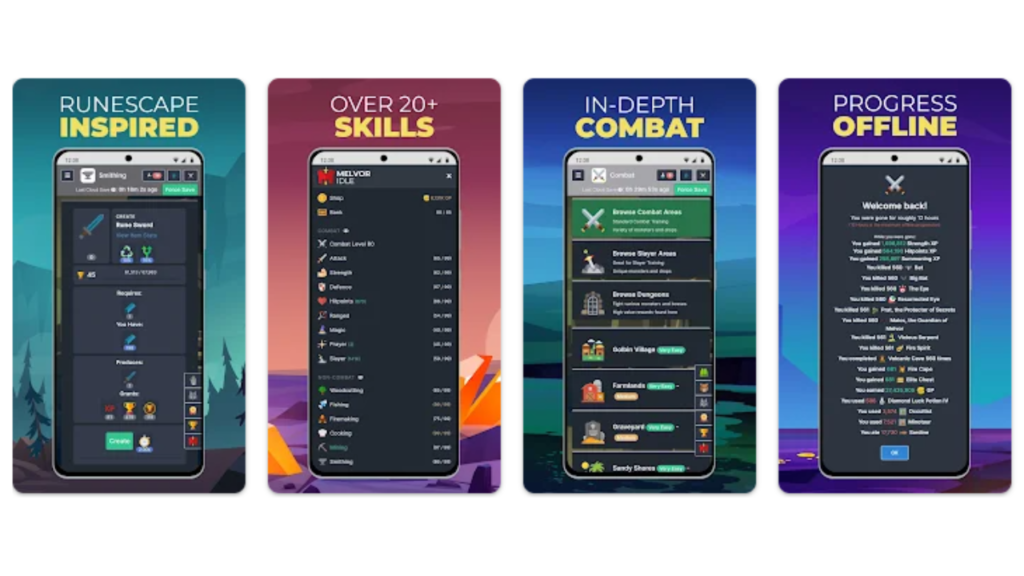 Created by Jagex Games Studio, this one holds a rating of 4.2 stars on the Google Play Store and has over 100,000 downloads. In this game, you must either click or tap to progress through the levels.
Also Read: 13 Best Game Recording Software Free for Windows
One can also decide the difficulty of the game they want to play, ranging from a Runescape newbie to a hardened veteran. You are on a journey to conquer dungeons, defeat bosses, gain skills, and unlock further rewards. You get a chance to play against 100 different kinds of monsters with your Melee, Ranged, and Magic Skills.
Final thoughts
Most games mentioned above are from different genres and may suit different needs. We would definitely ask you to consider checking out A dark room and Adventure Capitalist for starters and later other options once you have tried these two.