So, if you don't have any limitation on your pocket then this might make you happy, than any other phone in the world. Today we are having the the larger, the better and one n only best flagship of 2017 "Samsung Galaxy S8+". I know we are bit late in putting this review, but what we can do. We were waiting it to get deliver after pre-order as Samsung team was not good enough to send it for review to us.
Previously we have seen Google Pixel XL, iPhone 7 and iPhone 7 Plus with Dual Camera setup but this is something different. This is what we say innovation and a flagship of 2017.
In India it is priced at 64,900 INR which price way more when we compare the same from other countries. We are saying it a Flagship despite of its high price because it got everything you need, awesome infinite display, good battery, awesome looks, high end security features and water resistance too with great camera. So, what all you need in a phone to make it a flagship.
Samsung Galaxy S8+ Specs
| | |
| --- | --- |
| Model | Samsung Galaxy S8+ |
| Display | 6.2-inch Super AMOLED, 1440 x 2960 resolution (QHD), 529 PPI, HDR 10, Gorilla Glass 5 protection, IP68 certified |
| Processor | Samsung Exynos 8895 chipset; 10nm LPP fabrication process; Octa-core (4×2.3 GHz Mongoose & 4x 1.7 GHz Cortex-A53); Mali-G71 GPU; Snapdragon 835 (International Variant) |
| RAM | 4GB |
| Internal Storage | 64GB, expandable up to 256GB |
| Software | Android Nougat 7.0 |
| Primary Camera | 12MP rear camera |
| Secondary Camera | 8MP selfie camera + IRIS Scanner in Front |
| Dimensions and Weight | 5 x 73.4 x 8.1 mm and 173 grams |
| Battery | 3500mAh |
| Others | 4G LTE with VoLTE, WiFi, Bluetooth, GPS, USB OTG, 3.5mm Audio jack, Hybrid SIM tray |
| Price | 64,900 INR |
Box Content
Pulling Samsung Galaxy S8+ directly our out of the box first we get the smartphone that is absolutely beautiful and stunning. Then we get:
Power Brick (Support Fast Charging)
ARK High quality earphones
USB Type C OTG Adapter
USB Type C to Micro USB Converter
Manual
There are three color options which are available: midnight black, maple gold and coral blue. Here we have coral blue with us.
Design & Built
Starting with the design part one word which i want to mention is that absolutely stunning from the front part but looks similar from the back part when we compare it with Galaxy Series previous devices. All its sides and frame is made up of metal, the rear panel as well as the front panel is made up of pure glass which make the device more delicate in some situations.
Starting with the built part, at the front top we get 8MP selfie shooter beside that IRIS Scanner, earpiece and different sensors.
Sliding down we get the amazing and gorgeous looking infinite 6.2-inch display. The max i can say about the display will be less for this device. We also get curved glass on both s8 and s8+.
Coming down we get back on screen keys which looks quite well and has many other customization in it. The home on screen key which we get also houses a force touch option which works for different thing which i will explain later.
Coming to the down portion of the phone we get 3.5mm Audio Jack (Finally they have not removed it, well done.) Beside that houses a USB Type C Port, primary Microphone and speaker. Nothing else which need to be added over here.
Turning to the right side we get powerlock key which is also made up of metal and works quite well on regular usage.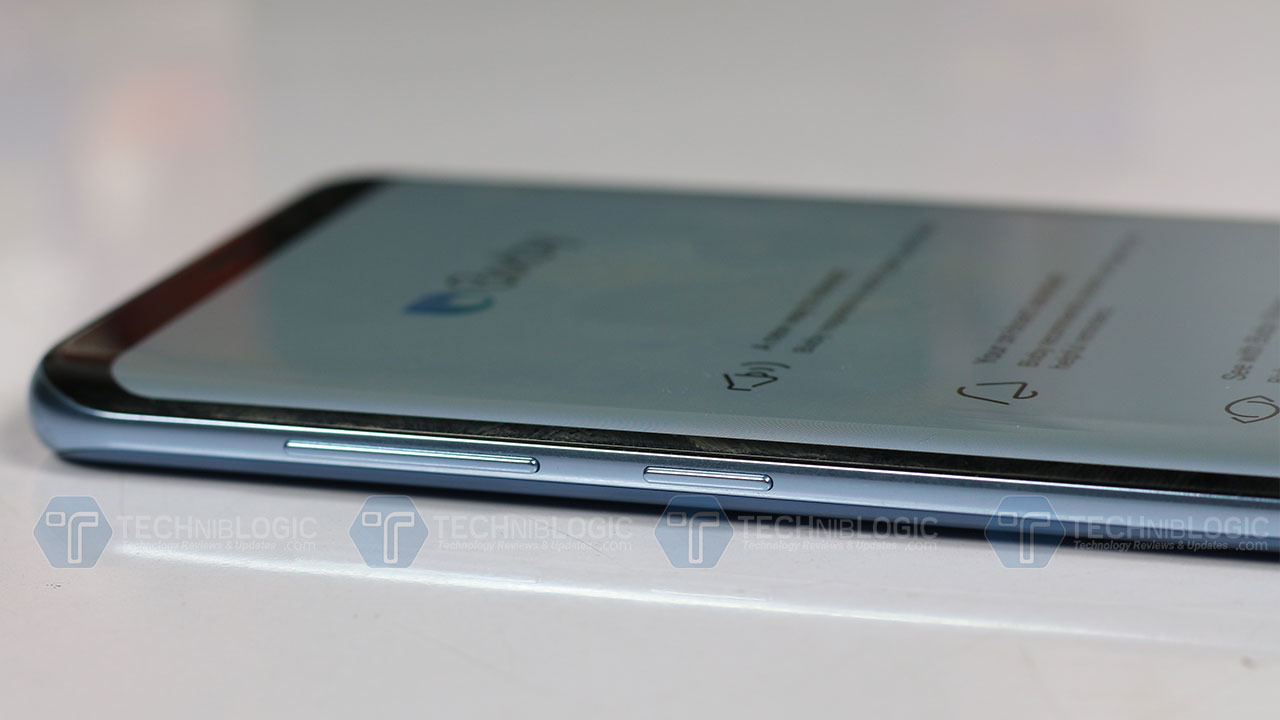 Turning the phone to the left side we get Volume rockers and dedicated Bixby button. Rest nothing much.
Coming to the top portion we get SIM ejector tray over there which is a hybrid SIM tray slot which support Dual Sim or single SIM + Micro SD card that too upto 256GB.  Beside that we get secondary noise cancellation MIC.
Turning the phone to the back side, here we get proper glass panel with Samsung logo. After that we get another focus of the phone its 13-megapixel camera beside that single LED flash and Heart Rate sensor which we see from their previous Galaxy S5 in it. Beside camera we also get a Fingerprint sensor which according to me is not at the right place because while using this large device taking finger at the back don't make any sense. We most of the accidently take our finger on the camera setup and not on fingerprint.
To top it all, the S8 and S8 Plus both are IP68 certified and can withstand submersion in 1.5 meters of water for up to 30 minutes.
Display
Here we start with primary focus of the phone which is its display. Here Samsung Galaxy S8 plus comes with a 6.2-inch QHD display which is one of its biggest in the market with that screen ratio with curved edges. Here we are not considering Xiaomi MI MIX at all. The display of the phone is promoted the company as Infinity Display. With no bezels on Samsung Galaxy S8+ in the front it don't feel using like a larger screen device at all. Despite of having a 6.2-inch screen, the phone feels more like a 5.5-inch phone which you are holding.
With this screen one odd thing which we get is it Screen ration. Like in normal phones we get the screen ratio of 16:9 but in this device we are getting the ration of odd 18.5:9, which something watching youtube videos or movies seems little bit awkward.  Even some of the apps can't scale up to that screen resolution. Some pre-installed apps has no problem with scaling up the screen size like Facebook, Google and other system apps.
Here we get a super AMOLED screen with gorilla glass 5 protection on top of it. With this super AMOLED display if you prefer vibrant and bright visuals, then you are going to love the display of Samsung Galaxy S8+. We get great auto brightness feature which works quite while in even bright sunlight. We can easily access the device screen even in bright sunlight without any hazzel or issues.
The Use of Curved Display is not as such we can only use it to add some additional shortcuts which are frequently used, Rest it only increase the screen size and looks gorgeous. Still this is not enough Samsung is also offering HDR-capable screen in S8 and S8+ like we see in Note 7. Rest over all this infinity display is awesome and i never going to complain anything about it. Whosoever going to use this will love it.
Performance
When we come on the performance part the one we get is a Exynos 8895 SoC whereas what we get in global market is snapdragon 835 which is most high end processor available in market till now. But still with the combination of advanced SoC and 4GB of RAM with Android Nougat, the Samsung Galaxy S8+ offers you the best which you want with its performance when we compare it with any other smartphone available in the market. Benchmark scores we get after installing few games is can corroborate that, and we got a score of 1,63,967 on AnTuTu, which is the highest which we get in any other smartphone released till date. Overall everything works fine, everything is smooth Gaming, multi-tasking, web-browsing everything is flawless and not even a single complaint i am having regarding performance. Exynos 8895 SoC works really very well in Indian Variant and hope so it will work better on Snapdragon version.
The little thing which i noticed is that while playing on High performance mode with QHD display on back panel of the phone start getting heat up the max temperature which i got was 38 degree which i think is decent enough with that glass body still it feels up little bit warm while in summers. . We can always use a Skin or case to prevent that normal heating of the phone. Rest overall you are going to love this one in performance part too.
Camera
We always love Samsung camera from there last year innovation in their sensors with samsung Galaxy S7 and S7 Edge. They came out with really awesome camera which even capture really great low light pictures even better than iPhone. As of now there was hype that with S8 and S8+ samsung will move towards dual camera setup and they don't have any reason to switch to dual camera setup. The S8+ back camera comes with a 12-megapixel shooter with f/1.7 aperture, with added dual pixel sensor which we see in high end DSLR like canon 70D which is mostly used for fast autofocus on particular subject. We also get optical image stabilization (OIS) in back as well as front facing camera which is not highlighted by the brand. Rest, there is no major change in any hardware part of camera in Galaxy S8 Plus.
This is not enough we can also side load different setting and modes from samsung store in there default camera application like if we need speed mode we can go in camera modes click on download new modes and here you go we all the available mode. We can also rearrange all the modes as per our comfort.
Coming to the front camera, we get 8-megapixel sensor with also added autofocus feature in it. We also get different selfie modes in S8+ default camera app. Even the Selfie autofocus works great. It also comes with beautifying filters and snapchat or Instagram-like filters. The best thing which no one is highlighted is that in Samsung s8 and Samsung galaxy s8+ we also get OIS (optical image stabilization) in front facing camera.
Camera Samples
Software
Samsung every year work pretty hard on their UI. Remember the old touchWiz UI we get in S2, S3 and S4 and now in their new upcoming devices they have worked so hard on there UI that it feels so smooth in daily use with all the added daily use functionality in it. Samsung S8+ comes with Android Nougat 7.0 out of the box. They have improved a lot in their TouchWiz Ui and its is first time i am having no complaints with their UI part. The design which we get in new UI is similar to what we get in Stock Android.  Swiping up on the home screen will take us to the app drawer but it can also be changed and video on it will be added soon.
While using the device from couple of days now i have received one OTA update with different fixes on the device which includes the fix of RED Screen tint.
This time they have also added a new smart assistant to your device names Bixby. While it isn't a voice-based assistant like Siri (as of now) but they are working on it. As bixby is in Beta stage the only thing which works on Bixby is "bixby track" and "bixby vision" which will be explained in our other upcoming video.
Just for example Bixby vision is the option where you just need to scan a product via camera and it will find that product online in its own way using which you can get any info you need or buy the product if you want to buy that.
Security
The Samsung Galaxy S8+comes with so many security feature that it totally depends on you want you want to use with it. Here we get traditional passcode/pattern method, fingerprint scanning, face recognition and iris recognition. Now what else you need in security. Still i would say that odd position of fingerprint sensor will affect each and every person who is going to use the device because most of the time accidentally you will place your finger on camera instead of fingerprint sensor.
The face recognition uses the front facing camera to match with your face, but it is not useful in low light and may be it can be cheated in many ways. The best way i like is to use iris scanner to unlock the device or to use traditional pattern method.
Rest, it totally depends on your usability and stability which one you like the most.
Battery
In Samsung Galaxy S8+ we get 3500 mAH which seems to be like good enough for this device with such great battery optimizations features which we get in setting panel. Using all that options we can optimize the battery.
We can even increase the battery life by lowering down the Screen resolution from QHD to FHD manually or even lower. But still i would prefer to get a extra power bank with you becuase on heavy use it surely not going to last you whole day.
But in optimized and normal use it will easily last your more that a day. It totally depends on personal preference. By using the bundles charger it takes about 95 to 100 minutes to charge from 0% to 100%. Rest, overall battery is decent but it should have increased a bit more by the brand because they are offering such high performance with that QHD display.
Verdict
According to me despite of average battery and off fingerprint sensor placement this device is flawless and i would say it is the flagship of the year if you have that much amount to spends on a single device.
Pros
Display (love it)
Design
Awesome camera
So handy (can easily be used single handedly)
Well Optimized software
Great Ram Management
Cons
Bad placement of fingerprint
Highest performance mode make it little bit heat up
Bixby need to improved further
Battery is Decent because of software optimization