Thermaltake India, the gaming gear brand. Which is also known as Tt eSports. The company recently announced its new Core p3 ATX Wall-Mount Chassis. The cabinet is available in two addition Snow and Black. The core p3 is designed with the new 3-way placement layouts and large windows. It has a dual GPU layouts locations, which gives a flexibility to place GPU as you want. It is also equipped with AIO liquid cooler. The manufacturing of the cabinet is premium, some very well finished plastic and a rubberize coating, which delivers a clean cut balance between rigid surface and a soft body.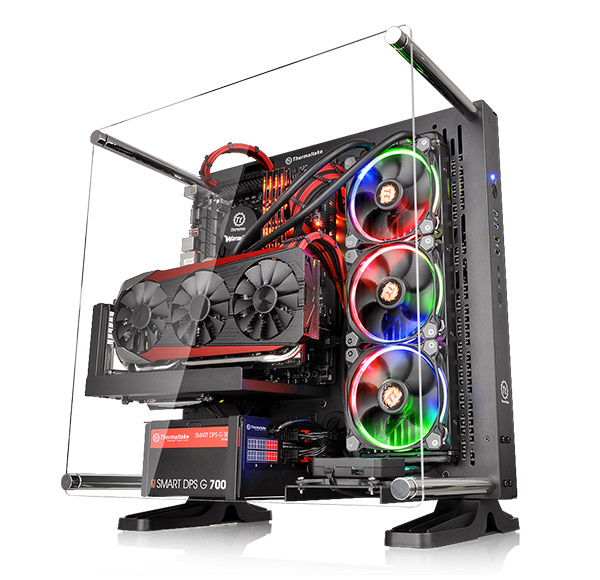 The Thermaltake Core P3 ATX Wall-Mount Chassis is now available in India at a retail price of 8700 INR.
Built in and mod ready:
The cabinet has specified mod that you can install as your need. Users can also make their own Core P3 via downloading the 3D printable accessories from 3dmakers.thermaltake.com.
Dis-mountable mod:
The users will get extra mods and attachments to install as their will. Which will include panels, racks, brackets and many more. The dis-mountable mods are east to install without any kind of complicated screw.
AIO Liquid-Cooling Solutions:
The cabinet is inbuilt with a 420mm DIY liquid cooling radiators, or 140mm case fans, which can also be integrated with a SLI graphic card. The Core P3 series also allows users to install AIO liquid cooler size up to 360mm. which has the capability to deliver an outstanding cooling efficiency throughout the entire case.
Supreme Hardware Support:
The core P3 series supports 120mm and 140 mm radiators and mounting of 3.5" and 2.5" storage devices. These two drive trays attached and hidden in the back panel which offers 45m of cable management space.
For more details on Thermaltake Core P3 ATX Wall-Mount Chassis please visit:
Core P3 – Click
That's all for this guys, please subscribe to our website and don't forget to check out the awesome stuff on our YouTube channel.