What does WhatsApp new policy mean? How private is WhatsApp after WhatsApp New Privacy Policy Update 2021? On Jan 7, 2021, WhatsApp pushed a new term and privacy policy to its users and asked them to 'Accept' or click on 'Not now'. I'm guessing, you're still clicking on 'Not now' button like me, but if you're the genius who accepted it, then voila. Welcome to the age of information warfare!
We all know what happened after that push notification. Media organization started publishing articles about data privacy, #WhatsAppPrivacy started trending on Twitter, memers began their job, and people started suggesting alternate apps like Telegram or Signal, even Tesla CEO Elon Musk tweeted to use Signal. It seems like when the world's richest man says something, people tend to listen to it. And thankfully it worked, Signal is now the top application on Play store, a spot that has been concurred by TikTok and WhatsApp since last decade or something. In 72 hours Telegram has 30 million new users worldwide.
Use Signal

— Elon Musk (@elonmusk) January 7, 2021
What is this WhatsApp New Privacy Policy Update?
To cut short, it seems like a legal means to process users' data to get meaningful insights on user behaviour to get exciting advertisement. It is not like data processing was never in play before, this new policy simply gives them immunity to process our data; by law.
"We collect information about your activity on our Services, like service-related, diagnostic, and performance information. This includes information about your activity (including how you use our Services, your Services settings, how you interact with others using our Services (including when you interact with a business), and the time, frequency, and duration of your activities and interactions), log files, and diagnostic, crash, website, and performance logs and reports.
This also includes information about when you registered to use our Services; the features you use like our messaging, calling, Status, groups (including group name, group picture, group description), payments or business features; profile photo, "about" information; whether you are online when you last used our Services (your "last seen"); and when you last updated your "about" information." This is what written in the new WhatsApp privacy guidelines.
If you simplify it, this basically means that WhatsApp is keeping all your information excluding chats. Some of you might not be very comfortable with this idea, and I am sure some of you must be thinking, my data is not that important. I mean, what could a billion dollar Tech Company could do with the data of a banal citizen who uses WhatsApp as a leisure time? Ask Cambridge Analytica.
Let's here WhatsApp side?
After a few days of outrage, WhatsApp released a statement on Jan 12, 2021, explaining their stand on the new privacy policy and the rumours surrounding it. Various print media carried a front-page full jacket advertisement with a bold green headline "WhatsApp respects and protects your privacy," To be honest, if that satisfies you, I'm game.
Well, indeed they were rumours, right? I mean why a company in its right mind would want to create a PR nightmare by asking users to accept a privacy policy or delete the account. Judging by the fact that the same company is responsible for loosely handling user's data in the Cambridge Analytica incident.
Let's look at some of the recent incidents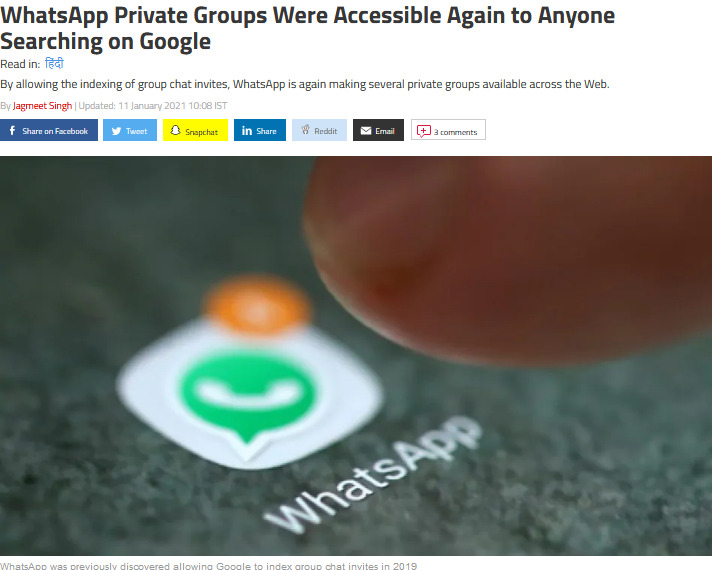 On Jan 11, 2021, Gadget360 published an article stating that some 1500+ WhatsApp private groups were accessible to the public on Google. WhatsApp did rectify this mistake stating a link indexing issue in the invites of the private groups, but experts believe that it's not a feasible solution because this isn't the first time it has happened.
On Jan 7, 2021, IrishTimes reported that WhatsApp will not force its users in the European Union to share their data to Facebook. Just because European union have a separate data protection act, which all corporation have to comply with.
Let's be honest here
We shouldn't be involved in this good-guy-bad-guy debate, despite that, we should be vouching for a robust data privacy law to come into play by the India government. Trust me, this whole WhatsApp debate is cute, but it is just a one-time thing. Because who knows in the coming future, another company with their right mind would want to do the same with their data.
Yes, you may move to another messaging app like Telegram or Signal, and they'll offer multiple layers of encryption to secure your data, but would that be enough? Are we sure that these companies will not change their privacy policy out of the blue? Are we sure they will not end up becoming another WhatsApp or Facebook? The digital India we all dream of is the age of data, and we should make sure its protection is our fundamental rights.
That was my time, please do drop your suggestion about WhatsApp New Privacy Policy Update in the comment section below. Thanks.