Hi Guys, are you struggling while making good website for your business. Have you tried doing coding for months to make a good looking website but still finding that something is missing in it?
If you are not a programmer or a website designer and still want to start your own business online, then this article is for you…
By using the mentioned method you won't be requiring any technical skills. You don't even need to hire someone to do so. You can yourself build a professional looking website in just few clicks.
Yes! It is TRUE, I am not joking. You can try it by your own mean.
The ultimate solution for these types of problems, we have WIX.com. This one site is going to solve every problem which is regarding to build online professional website in just few clicks. Now, you might be thinking that it will be same as we see in WordPress.com or blogspot.com but in actual not. Believe me! Wix.com has taken website creation to another level. You can now create any kind of website in just few simple clicks.
You can build your own Blog, portfolio website, Event Websites and that's not it, you can even create your own E-commerce business website in just few minutes. They are also providing there WIX ADI service which is a kind of their own Artificial intelligence technology which will automatically help you to create your website in more unique and user friendly manner. Doesn't that sound interesting?
Now, the next question that arises is, it might be very expensive or you might need to pay additional for server to host such website. But the simple answer is NO! In any scenario there is no need for spending a big amount on separate hosting. Once you get registered with WIX.com your website is going to be hosted on WIX own Server only. Their own service is reliable as well as fast. Using WIX the most important of creating website which is getting hosting is FREE! Yes it is free.
So, to start with it you just need to do a free signup and start creating your own website online. WIX is only going to charges you if you want to use some kind of additional features. We are going to talk about all additional features later in article.
After reading all of the above content, you might have a proper idea about what WIX is and what you can do with it.
So, let's come straight to the main topic – what is the best way to build a website using WIX?
Steps to Make WIX free Website
First, go to WIX.com and signup with your email id or you can even sign up using your social media accounts in just single click.
Once you get login, it will ask you about your website and want exactly you want to create. Here you have to select what you actually want as per your requirement. As shown in the screenshot: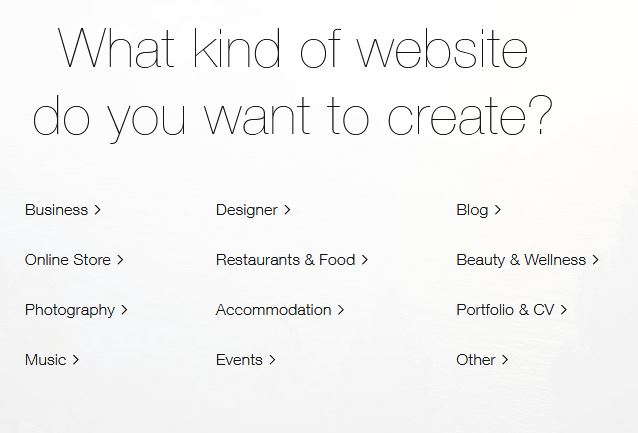 Once you are done with it, you will get 2 more options i.e. "Create Your Website with WIX ADI" or "Create Your Website with WIX Editor". Now, the choice is yours that how you want to work with it. Personal recommendation will be using WIX ADI as it will help beginners to work easily. WIX Artificial Design Intelligence is used to help you to create your website with more unique and user friendly system. It will start designing your website by learning about you and what you want, just by asking few questions.
The first question which is going to be asked by WIX ADI is "What kind of business do you want to create a website for?" You can search for the most relevant category in their database. In my case, I have selected "News Blogger".
Now, another question will appear, asking you about what all features you want in your website. You can check the screenshot which shows "Sell Online" and "Get Subscribers". You can select as per your choice.
At last you need to enter your Website or Blog Name.
To get more personalized and professional feel, I would suggest you to fill out maximum fields, which will give you better connections from your visitors. You can even upload your Company Logo if it is a business website or you can add your own pic to increase the connectivity by your audience.
You are almost done and your professional looking website in just a few minutes away.
You can choose the best looking style that you want for your website and within few second it will be developed in your cup of taste.
You can even view the live demo of your professional looking website. If you want more adjustments to do you can do it from here. You get all drag and drop functionality which makes it super easy to use. No coding is required for any kind of adjustments, WIX will do for you automatically within a second.
Now coming to the part of publishing the website live on the internet.  So, for that just click on the publish button on the top-right side and you are all done. You now finally have a professional looking website with no coding skills.
If you have created a blog, you will get a completely optimized UI for posting your content on your website. You can write a post, Schedule your post as well as manage your post categories and tags in this clean interface.
As you have registered for free you will get some limitation for using WIX own domain extension, but you can always edit and connect it to your own customized domain.
You can even use WIX shopping features that will also work on a blog.  It gives a simple and easy interface for adding and managing different products catalog with their payment integration. You can even add Payment methods like Online Payment via PayPal and Offline Payment via Cash.
If you want to add some more features to the blog, just like opening up your own Forum or want to E-mail your customers etc. you can use WIX Apps which provide extra functionalities to your website
Now the question arising that if all these features are available for free then what extra benefits can a Premium Plan Users will get? Don't Worry! WIX has, even more, to give in a single package. All WIX plan is very affordable when we compare the same with other available alternatives where we need to code or hire a person to code.
So, as per my views, if you want to start for the FREE plan to test and design your website just go for it. Once you are comfortable with all other stuff you can always opt a premium plan that fits you best. Hope this articles suits you and you like it. WIX is a new technology which helps anyone to focus on their content or business on online platform by making a website. If you like this article make sure to subscribe to our website for more posts like this. Thank you 🙂