ASUS is a well-known reputed brand in the global market and always comes with something new, unique and innovative. After a long time, they came up with their new device in the Indian market which is Asus 6z. This device from Asus comes under the flagship category due to its specification and innovation. In India, we get three different variants for Asus 6z:
6GB RAM/ 64Gb Internal – Rs. 31,999
6GB RAM/ 128Gb Internal – Rs. 34,999
8GB RAM/ 256Gb Internal – Rs. 39,999
Asus 6z is going to give direct competition to Oneplus 7 due to its price and specification, which consider some comparison later in this article.
Asus 6z Specification

Operating system
Android 9.0
Display
6.39-inch FHD+
Processor
Snapdragon 855
RAM
6/8GB
Internal Storage
64/128/256 GB
MicroSD up to 2TB
Battery
5000mAh
Rear Camera
Flip Camera 48-Megapixel Primary,
13- Megapixel Ultrawide & LED flash
Front Camera
Flip Camera
Dimensions
159.1 x 75.4 x 9.2 mm
Weight
190 g
Asus 6z Box Content
Asus 6z
Manual
USB Cable Type -C
Charging Brick (FAST CHARGING)
Cover ( Transparent Crystal hard Case )
SIM Ejector Pin
Earphones (ASUS ZenEar Pro Hi-Res earphone with microphone)
Asus 6z Design & Built
I have been using the Asus 6z for the past couple of days now and trust me the 6.39″ FHD+ screen with Full View Display without any notch is really impressive. We get a 19.5:9 which is coming in almost all devices these days. Turning the device around we get the curvy feel with glass and aluminum finish all over. With full front back glass and aluminum, the body device feels really very impressive and premium while using on a regular basis. Adding the glass makes the device a bit slippery, which make me suggest to use some case or skin on it. This year we have noticed all Flagship phones getting bigger and bulkier but if with the weight of 190 grama the device feels convenient to use. With 5000 mAh battery, the weight of the device is justified.
Starting with the design part; at the front top, we get an earpiece and best part a Multi-Color LED light which is not available in any other notchless device. Asus 6z is first in the world to add LED notification in Full display notchless device. Below that we get 6.39-inches FHD+ display which is an IPS display and works well. Display which is covered with 2.5D curved glass. The curve glass gently melds in along with the curved sides, thus making it a joy to hold in the hands without any fatigue.
Coming little bit down we get on-screen back keys which we can swipe according to our usage. Asus has also added Gestures which is more convenient to use after using Vivo and other brands. Gestures work perfectly and increase all display experience.
Turning the phone to the downside here we get a primary MIC and a USB port Type C 2.0 port which supports OTG and Quick Charge 4.0 with 18W fast Charger. Beside it, we also get a speaker grill which has impressive high-quality audio and these speakers also work as stereo speakers. We also get a 3.5mm audio jack which is removed by most of the competitors. We never want Asus to remove 3.5mm Audio jack it is a necessary thing which We don't know why other brands have removed. The sound output using 3.5mm Audio jack is amazing and you can also change and modify the output by using dedicated Audio Wizard which Asus Is offering in their software.
Coming to the left side of the phone here we get an amazing Tripple tray slot where we can insert two dedicated sims and a Micro SD Card. Both sim's support Dual VoLTE if you want to use it.
Turning the phone to the upside we only get antenna lines and another noise cancellation MIC, which makes it total 2 Noise cancellation MIC in it. We also get a flip camera module on top which we are to explain later.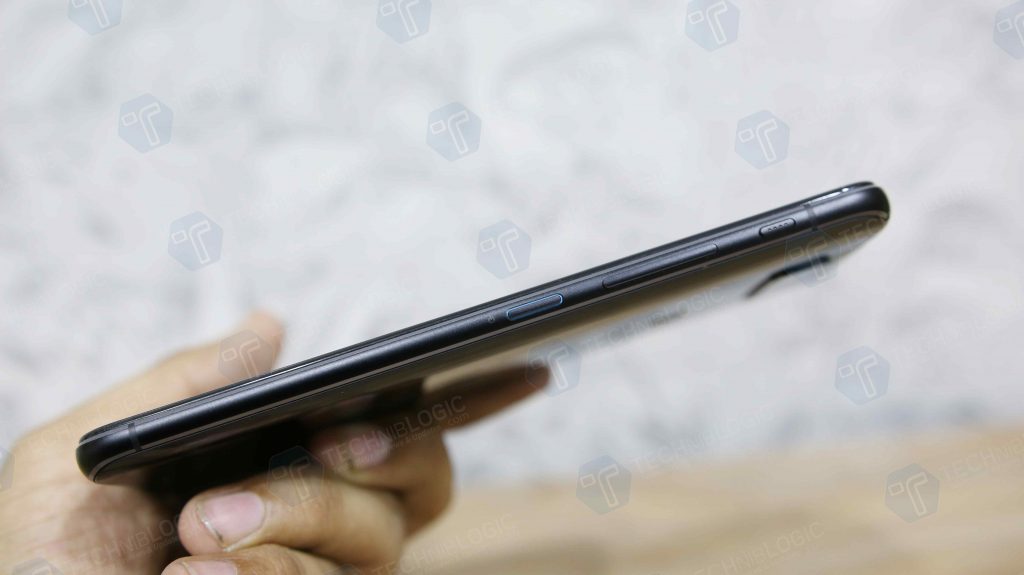 Coming to the right side of the phone we Volume rockers and power lock key which works quite well on regular usage. They are also made up of metal. We also get a third button above volume rockers which can be programmed as per your usage. You can set that button for Google assistant or camera or anything else whatever application you want to control using that button.
Finally coming to the backside of the phone here we get a 48-megapixel primary camera and a 13-megapixel wide-angle camera with support of Dual LED flash. The camera that we get with Asus 6z is not an ordinary camera, it is a flip motorized camera. These same back camera can be transformed in the front camera just by a press of a button we can also stop the camera rotation manually as per our usage. This camera looks way better than what we get in Oneplus 7 Pro or Vivo V15 Pro. Below that we get Asus branding a Fingerprint sensor which works quite fast just like what we see in Oneplus  Devices. The back panel is made up of proper glass and has that circular finish which we see on every Asus products. the flip motorized camera also supports Face unlock and it works amazingly fast.
ASUS 6Z Display
Display of Asus 6z attracts you in a single shot because the device comes with a notch-less display. Asus 6z comes with a 6.39-inch FHD+ display with a resolution of 1080 X 2340. The display gives you the ratio of 19.5:9 which is normal these days. The colors on the display are sharp and playing games look great. The display looks dark and increases the experience of watching movies to another level. The display also supports HDR10 which increases the experience of watching movies and web series on the device. Overall, an amazing display which Asus is offering. They can make it best if they have added a Super AMOLED display, but it will again increase the price of the device.
Also Read:
Asus 6z Performance & Software
Asus has given their peak performance in there 6z. They have given the latest and fastest processor from snapdragon which is Snapdragon 855. They have not even compromised with the software UI. This time even with ZenUI they are offering pure stock android without any bloatware without any lag. ZenUI=Stock Android in Asus 6z. No complaints in performance and software UI. Apps open quickly, multitasking is smooth, and all heavy-duty games run smooth. PUBG runs in Ultra.
HD streaming on Asus 6z works out of the box on all applications like Netflix and Amazon Prime. We also get all relevant sensors and connectivity options including Dual VoLTE, dual-band Wi-Fi and Bluetooth 5.0 are present on the phone.
One issue which I faced out in my Unit was for accidental touches, might be in future after some update if get fixed.
Asus 6z Camera
Asus 6z features dual camera sensors with an added flip camera (48MP Main Camera + 8MP Wide Angle Lens) on the rear end, which can be flipped and get converted in a high-quality selfie camera (The Best part you can use in this device). The dual camera makes use of the AI technology which detects different scenes automatically and adjusts the setting to get the best output out of it.
It produces images with good natural-looking colors even in indoor and low lighting. When it comes to the camera and picture's quality, we are amazed at the quality images it captures.
Take my words it really works well. If we are going to compare some shots from Oneplus 7 Pro, this time Asus camera is way ahead with Selfie as well as the back camera. If you are going to use Google Camera application in your 6z you will just gonna love me with so many detailed upgradations.
No comparison with selfie camera this time as the primary back camera of Asus 6z is flipped into a selfie camera. If we compare the same camera with any other device selfie camera Asus is way Ahead with the quality output.
Asus 6Z Camera Samples
Asus 6Z Battery
In Asus 6z we get a massive big 5000mAh battery which can last really long. We are consistently getting a screen on time of more than 8 hours, which makes 6Z the best in their segment.
Asus bundles an 18W quick charger in the box that can charge the device to 60% capacity in an hour and get fully charged in approximately 1 hour 40 minutes. The device also supports there is reverse charging and can charge other devices (up to 10W).
Verdict
For selfie, no notch and show off lovers, it is going to be a great device. Overall in daily usage, you won't find any issue. This is an amazing premium high-quality device. The brand has not compromised anything while building this one. Even the price of the device is amazing but still, they can low down the price as Asus 6z is giving direct competition to Oneplus 7.  Lowering the price can offer them double sales volume.
Pros
Great Notch-less Display
Best Performance
Great audio quality
Fast fingerprint sensor
Glass and metal body
Great Pricing
Great Camera Quality ( Loved Flip Selfie Camera )
Great Battery output ( Loved the battery backup )
Dedicated card Slot
The audio jack is Still present ( Please don't remove it future devices also )
Cons
Face-unlock is good but with the flip camera, it might affect the motorized camera in the future.
No Water and Dust Resistance