If you are a gamer you must be always thinking about having a gaming setup. Some gamers get their setup easily but for productive users, they need gaming setup which can also handle office work and must be portable. If you get a PC build you need a lot of space and also need to compromise with portability. In another scenario, if you buy a laptop you will be getting potability but you need to compromise with your gaming experience. So this time Asus ROG team came out with a big solution where they get another new series of gaming laptops in the Indian market. Asus came out with Zephyrus which is sleek and also a beast when we see the specification and hardware. Asus comes with Zephyrus GX531GWR which comes with i7 intel processor as well as Nvidia RTX 2070 Max-Q in such slim design. This laptop is surely going to change the PC gaming industry. So lets start the Asus ROG Zephyrus GX531GWR Review.
Also See: Best Features in the Asus 6Z
So without wasting more time let starts with its inner hardware:-
Asus ROG Zephyrus GX531GWR Specification
| | |
| --- | --- |
| Price | Rs. 239,990 |
| Processor | Core i7-9750H |
| Memory | 8GB onboard + 1 x SO-DIMM (Max up to 24GB) |
| Storage |  1 TB (Can be increased) |
| Display | 15.6-inch Full HD |
| Graphics | Nvidia RTX 2070 Max-Q |
| WiFi | 802.11ac/b/g/n Wi-Fi, Bluetooth 5.0 |
| Ports | Left – 1xDC-In, 1xUSB3.1 Gen1 Type C,2xUSB2.0,1×3.5mm audio jack, Right – 1xUSB 3.1 Gen2 Type-c,1xUSB3.1 Gen2 Type-A,                      Back – 1xHDMI 2.0b, 1xKensington lock |
| Weight | 2.1 kg |
| Operating System | Windows 10 Home |
Box Content
 Asus ROG Zephyrus GX531GWR
Charging Brick
Paper Work
Design and Build for Asus ROG Zephyrus GX531GWR
Coming to the design and built part of Zephyrus GX531GWR. This gaming beast is impressively thin, light and beautiful in terms of a gaming laptop and the hardware it is loaded with. The laptop only weighs 2.1kg even after that we get all full-size ports which will be mentioned later in the article. The design which we get in this gaming beast is new and very eye-catchy.
The body of Zephyrus GX531GWR is made up of aluminum with proper golden color shades all over. The top side of the lid has a textured concentric signature finish from Asus which is kind of attractive and adds up luxury feel. On top of the lid, we also get the ROG logo which looks cool.
Coming to the other area of a laptop like a palm rest area, then you are going to miss it in this beast. You need to make your hand rest on the table or need to separately buy a hand rest as this laptop has lowered the keyboard panel which is quite different from what we see in other products in the market. Even after this lower down keyboard layout, we get a full-sized keyboard which works well. The keys also make a sound while we use them. They are made up of solid plastic and not rubber which makes it way better while typing. The spacing between the keys are proper and are well comfortable while typing.
In this new layout, the trackpad layout has also moved to the Numpad area, which makes the trackpad do multipurpose work. It works as a trackpad as well as a Numpad. You can use them both at the same time that too without any problem.
We just need to hard press the trackpad from the top right corner to switch on or off the number pad on the trackpad. No Numpad on compact laptops was a big issue which is finally being solved by Asus in this new Zenbook series.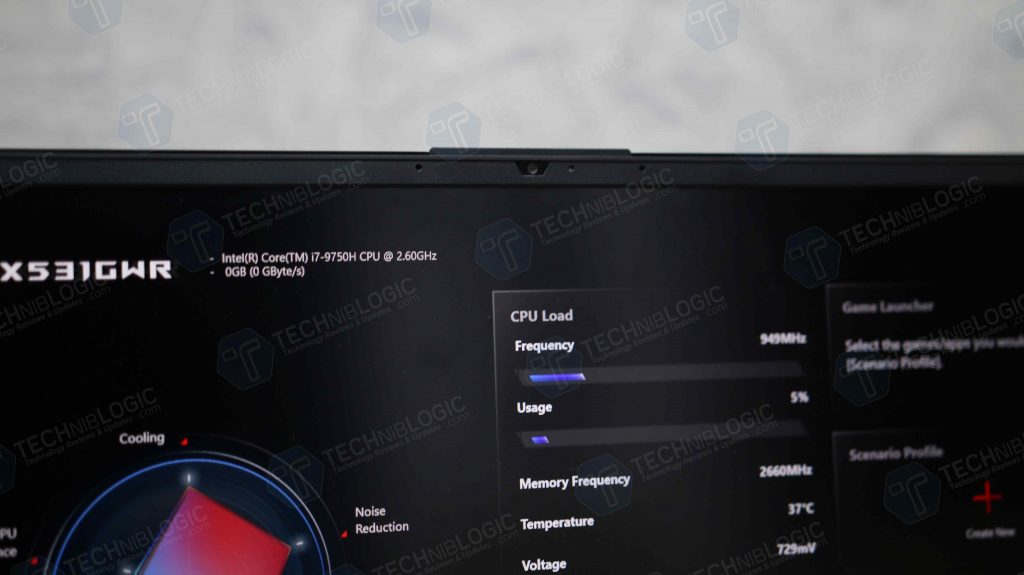 We also get an HD 1080p webcam which works well for skype call or even for any kind of webinar. In low light, it will struggle a bit, due to which I will suggest you use additional LED light in front of your face will work.
Ports on Asus ROG Zephyrus GX531GWR

Asus has added all full-size ports in a compact size of a laptop in this series. You won't be missing any of your regular port while using this one. On the left side, we get 1 x DC-In , 1 x USB3.1 Gen 1 Type C , 2 x USB2.0 , 1 x 3.5mm Audio Jack.
Coming to the right side we get 1 x USB 3.1 Gen2 Type-c , 1 x USB3.1 Gen2 Type-A. Beside it, we get a different LED light indicator.
On all three sides of the laptop, you'll find cooling vents, but what's really the impressive trademark of the Zephyrus laptop range, as far as design is concerned, is the backplate that lifts up when you open the lid. This looks cool. The whole laptop comes up with few millimeters. This is not enough we also get proper RGB lighting in it, which is going to attract anyone towards you to ask about this beast.
Backside we get air vents and no option for any connectivity.
Display and Speaker on Asus ROG Zephyrus GX531GWR

The Zephyrus GX531GWR comes with a 15.6-inch IPS-level panel with a 144Hz refresh rate, and 3ms response times– things which a normal user will never care but if you are a hardcore gamer and willing to pay this much amount you definitely need this.
The Display looks good, even when it's turned off. The display has minimal bezels which makes it looks good and compact. The brightness levels are great, it can go very dim for if using it at night, and it can go bright while using in day or sunlight. Best part it has a matte coating on it which is a definite need. Asus always offers the best display and this is another example of the same. Gaming, editing everything can be done perfectly and portably with this machine.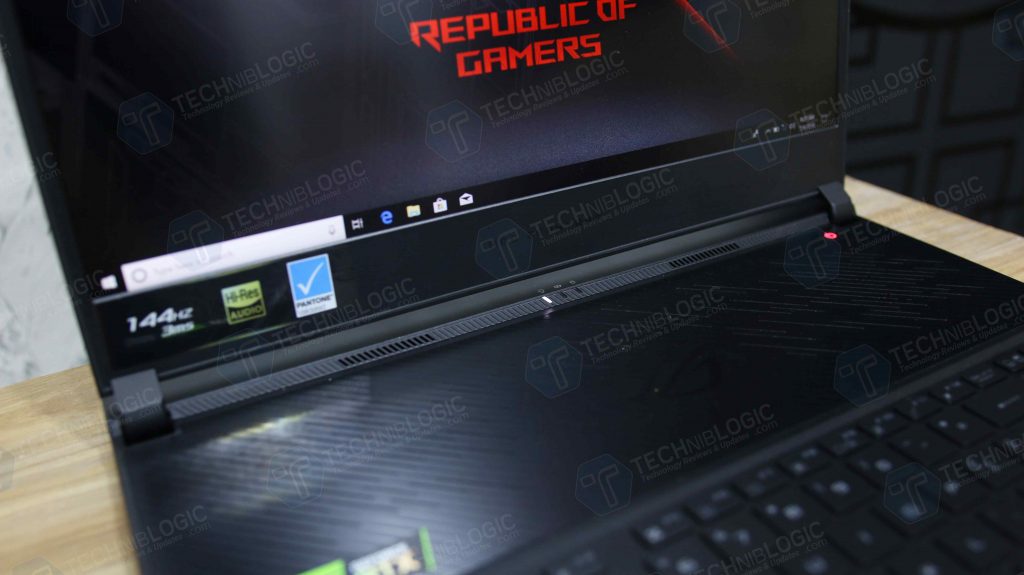 The Asus ROG Zephyrus GX531GW comes with 2W x 2W speakers with SmartAMP technology, and they sound pretty loud. They're one of the best speakers you are going to hear on a gaming laptop. The speakers get pretty loud, audio remains clear even on max volumes so no worries. Even after that, every gamer is going to use a gaming headset for the best experience.
The best part of speakers is they are front-firing speakers. The speakers are hidden just below the display.
Performance on Asus ROG Zephyrus GX531GWR
The ROG Zephyrus comes with a 9th-gen Intel Core i7 processor clocked at 2.2GHz with a Turbo Boost overclocking we get up to 3.9GHz. That beast is paired with 16GB of 2666MHz DDR4 RAM which can be changed as per the requirements. Best part the GeForce RTX 2070 Max-Q GPU taken from Nvidia's latest lineup, made this device a beast. We just get amazing performance out of it. Saying anything else will insult this beast.
You can play any game you want to play. You can run any emulator you want to run. Any code any rendering stuff. Everything will work like a butter slippery performance. Every game can be played in the highest setting without any lag and frame drop. Rest what else any gamer needs. In Ultra settings, the Zephyrus GX531GW pushed an average frame rate of 81FPS, going as high as 94FPS and as low as 60FPS depends on the scenes and objects.
We get the best performance out of it. We just cannot compare this beast with anything else. No doubt on performance.
Battery Life on Asus ROG Zephyrus GX531GWR

Gaming laptops are never good at the battery at all. This is because of their top-notch hardware and performance. Consumers also compromise with hardware and battery as they are getting top-notch performance and portability factor. The Zephyrus GX531GW comes with a 60Whr battery.
While using the battery on 50% brightness and doing normal daily work like word, photoshop, Chrome, and all the battery are going to last you for about 2 hours 50 minutes on turbo mode. If you are on power-saving mode then it depends on what all applications you are using.  You definitely need a charger while traveling with this beast else you won't be able to survive with your work and games.
Verdict
The ROG Zephyrus GX531GW is a laptop which is almost perfect from every expects. Here I am not considering the battery as we cannot get a great battery with a beast performance that is quite obvious. This machine has a great design, premium build and filled with RGB lights all over. Asus has added top-notch portability with the best performance.
So, if you are having enough money to spend on the beast just go and buy it with no Hassel.
Pros
Great Built
Great Performance
New Keyboard ( Will take time to learn and adjust )
trackPad and Numpad Combo
Display ( Loved it)
Ports ( Thanks for not removing them )
Cons
Not big Battery
Cannot use in a dusty environment as below vent get open every time you open the lid