Do you miss playing classic SNES games from the '90s?  Well, you can play those games by using an emulator. To play the classic SNES games, you will have to download SNES emulators. You can choose from few options; however, not all of them are proficient enough to deliver the experience you'd get from playing the game on an oldie console.
You May Also Like to Read:
This article listed down the best SNES emulators for PC, Mac, and Android that you should try to enjoy in your favourite classic SNES game. Moreover, there are no official emulators on the app store that can be downloaded for iOS.
Best SNES Emulator
1. ClassicBoy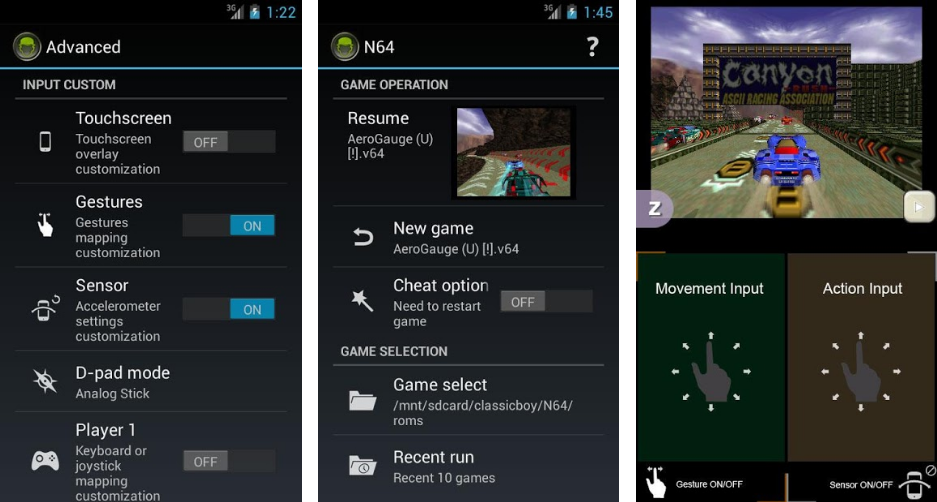 ClassicBoy is an old yet good emulator that is worth using. You can download it free. However, ClassicBoy is a combo emulator with PlayStation, N64, Game Boy Advance, SNES, and others. ClassicBoy leads gestures mapping into a game controller and is very useful for controlling arcade games.
The light version of this emulator includes features like touch screen input from graphic buttons, audio reverb, gestures/sensor settings, many more. However, you can activate features like game state auto-load and slot load, gestures controller, and sensor controller by purchasing the FULL version.
Download: Android
2. RetroArch
RetroArch is an amazing all in one emulator, which is a front-end for the Libretro emulation API. It can operate on many systems, including Windows, Mac, Linux, and Android. The app has a bit of a learning curve, and you need to read their wiki to find some troubleshooting answers.
This emulator features on-screen controls, a high compatibility rate, the ability to remap controls, multi-language support, and support for tons of systems. Moreover, it is open-source, free to use, and has no advertisements.
Download: Android
3. Snes9x EX+
It is a Super Nintendo emulator for Android that is based on n Snes9x 1.53. You will require an Android device with a decent CPU (1GHz+) to play games for this emulator. It is free to download, open-source, and comes with basic features that you will find in most SNES emulator.
The features include saving/load states, on-screen controls, support for .smc, .sfc, and zip files, and support for gamepads. The emulator works well on pretty much every device. Moreover, you will not face any crashes; it will open up where you left off even when you close it.
The emulator supports sound, split-screen with other apps.
Download: Android
4. ZSNES
Meet the first Super Nintendo emulators that could play a wide range of games at reasonable speeds, ZSNES. This uniqueness made ZSNES one of the most popular Super Nintendo emulators. But, since 2007, there is no update, and hence the ZSNES emulator is now obsolete. Furthermore, this emulator comes with low accuracy compared to another emulator, and it focuses more on speed.
If you want to play the SNES game online with your friends, then ZSNES versions 1.36 and 1.42 have some of the best working code out of all SNES emulators available. One of the significant advantages of ZSNES over other SNES emulator is that it can run on a turnip. Moreover, if you are stuck with Windows ME Hewlett-Packard, ZSNES is the emulator.
Download: Windows
5. Higan
Byuu is one of the big players in the emulation field, and Higan is the product of Byuu. The current version of the Higan can run smoothly on 12 different systems, but SNES was the one that started running it. Most of the SNES emulators were developed during the late 90s. At that time, the lack of computational power shifted the focus of these emulators to High-level emulation that tries to stimulate the response of a system efficiently but doesn't guarantee perfect accuracy.
This resulted in certain games not working or working incorrectly. But, Higan was built to be cycle-accurate, and then this low-level emulation seeks to render the original code of the games as accurately as possible. This helps the users play games and get as close to the experience you would have on the console. So, if you are looking for a SNES emulator that offers the best and most authentic experience possible, then you should use Higan.
Download: Windows
6. Super Retro 16
SuperRetro16 is one of the most popular SNES emulators with support for multiple types of controllers, cloud storage support, and the usual fair like save/load states, fast forward, and more.
Super Retro 16 also features various visual enhancements that try to make the games look a little smoother. Unfortunately, this SNES emulator was removed from Google Play in mid-2019 because of some sort of violation. However, it is back on Google Play, and it is a paid emulator.
Download: Android
7. Biz Hawk   
Are you a fan of speed runs, and you always want to complete a game in the fastest possible?  If this is the case, then Biz Hawk is the best SNES emulator. It is compatible with Windows and can be downloaded for free.  This emulator is designed around the production of Tool-Assisted Speedruns (TAS), and it works best for high tech games and even works equally well for casual gaming.
The emulator offers support for the released games on various platforms other than SNES, such as NES, Nintendo 64, Game Boy, Game Boy Color, Sega Genesis, Sega Saturn, PlayStation, Atari 2600, etc. The compatibility with various platforms allows you to enjoy a lot more games with this emulator than with any other emulator.
Download: Windows
8. John Ness
 It is a SNESS and NES emulator that replaces the very popular John SNES and John NES apps. John Ness works amazingly well for both systems. Using this emulator, you get the cheats, good rendering quality, save states, high compatibility, customizable digital controls, fast forward, turbo buttons, and slow down, and even hardware controller support along with cloud storage support.
The developer states that the John Ness application uses the original SNES engine, which means that users will have a great time playing classic games. They can focus on accuracy over performance. John Ness sports high-quality rendering, zipped file support, customizable keys, and more. Moreover, this emulator also supports Bluetooth/MOGA controllers.
9. OpenEmu
OpenEmu is supported by the macOS platform and is free to download. This emulator resembles RetroArch, because it's more of a front-end for many different emulators, requiring you to download additional cores to play games. This emulator comes with a clean user interface and is easy to use. OpenEmu sports a couple of exciting and amazing features like filters to improve visual output.
It supports multiple input methods and many more. The best thing about this emulator is that it does not resource extensive, which means that it can easily operate on older macOS devices with low-end specifications.
10. Nestopia UE
Nestopia is a free, high accuracy NES emulator supported by various platforms like Windows, macOS, and Linux. This emulator can play most NES games without any trouble and comes loaded with excellent features, including texture scaling. In addition, Netplay, game-specific custom palettes, cheat support, and Famicom mic support makes it an excellent option for emulation fans.
It is straightforward to set up and has a user-friendly interface that allows users to install and run games in very little time. Moreover, the emulator even features VSync support; however, you might experience some input lag if you plan on using the feature.
Download: Windows
Conclusion
This sums up our list of the best SNES emulator for PC, Mac, and Android.  All you need to do is, install games directly from the emulator or download ROMs from the internet. Please let us know about the games you are planning to play on these emulators in the comment section.
You May Also Like to Read:
If you have any app suggestions that you think we should add to our list of Best Snes Emulator, please feel free to drop a comment; we are always open to new ideas and suggestions. If you like our content, please do bookmark our website and stay tuned.
FAQ: 
What is the best SNES emulator?
RetroArch.
higan.
SNES9x.
BizHawk.
ZSNES.
OpenEmu.
Nestopia UE.
SNES9x EX+
Is SNES better than SNES9x?
As per the usage, higan is the most accurate snes emulator, but the differences in game between it and the latest versions of snes9x and bsnes are imperceptible.
Is higan the best SNES emulator?
For the best and most accurate experience possible, then you should use higan.
Is Bsnes or Snes9x better?
Snes9x has better performance, at the cost of a loss of emulation accuracy, while Higan has better emulation accuracy at the cost of performance