Gionee A1 Plus GIVEAWAY
These days people are just crazy of taking selfies and large display with dual camera setup, or we can say taking our own photo using our front facing camera is increasing very dramatically. Everyone is getting addicted towards it, and mostly girls are getting too much self-obsessed using this selfie kind of stuff. But why only front camera ? so to change the trend over here Gionee brings up there new device in the market Gionee A1 Plus which houses dual back camera which has really fast focus and colors will attach shots below in the review as well as in front we get 20-megapixel camera with moonlight flash not a normal flash.
ALSO READ: Gionee A1 Plus Camera Test + Exclusive GIVEAWAY 🔥🔥
Personally, I also love taking selfies but when you have a phone which is selfie-centric and tagline for the brand is defined as "Welcome to Selfiestan" then taking photos using that front-facing camera makes you addicted towards it. Gionee A1 plus , is available at effective price of Rs. 26,999 in there offline stores as well as on online stores.
So, Let's see how Gionee A1 plus is going to perform in this real crucial world with its dual camera, large display for multimedia and big selfie camera.
Gionee A1 Plus – Box Content
The Device comes in the well built box. Opening it from the top first we get the phone and nothing else. To get other accessories, we need open it further:
Accessories which comes within the box are:
Fast Charger
High-Quality Type Micro USB cable
User Manuals
High-Quality Premium In-Ear Earphones
Premium TPU Case
High-Quality Screen Guard
Design & Built
Gionee A1 plus is available in two colors Black and Mocha Gold. When I first picked up the device in hand it feels sturdy and well built. I would say Gionee has really worked hard on their new device. Each and every small detail is being taken care which we can notice on the power lock key has circular red chrome lining. Built quality of Gionee A1 plus is really top notch with no complaints regarding it. As the main focus of the device is on providing good multimedia experience with great battery and dual camera plus added big selfie camera it make the device little bit heavy. But i think when a person is getting this much in one device they can bear up with the weight.
Starting with the front part of the phone at the top we get a 20-Megapixel Shooter beside it a LED flash which is not a ordinary flash seems to be like a moonlight flash, it also has different effect as per your choice. Beside that you get earpiece, different sensors and a no LED notification Light, in spite of LED Notification Front Flash works as a LED Notification if you enable it from setting panel.
Sliding down you get a 6″ FHD AMOLED Display, with a added 2.5d Curved glass on top of it. The whole front is protected with a Gorrilla Glass 3 which make this large display safe for your use, still i will prefer you to use a screen guard or a tempered glass for betterment of the phone.
Below that you get back capacitive keys which don't light up. We just have two small white color dots over there. Between that houses a Home button which we can actually press. That home button also acts as a Fingerprint sensor which is insanely accurate and fast just like we see in Oneplus 5 and MI6 and Gionee A1. I rather love its fingerprint sensor just a small tap on fingerprint, and it will unlock the device. I have already shown the same in our different videos of Gionee A1 plus.
Now, coming to the down portion of the phone you get a Micro USB port which do support fast charging, besides that you get Dual Speaker grills out of which right one is having the actual speaker and left one is having the primary MIC in it.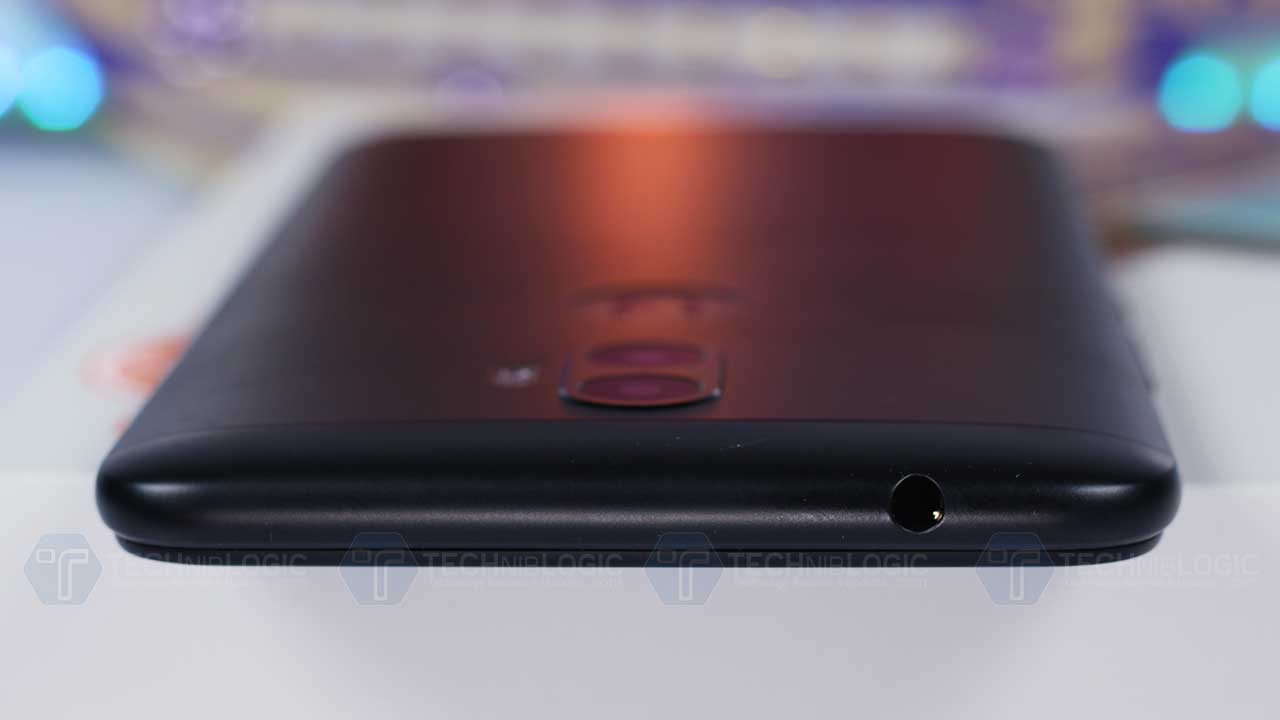 Turning around to the top side you just get a 3.5mm Audio jack and nothing else.
Coming to the left portion of the phone you get a Hybrid SIM tray which supports Dual sim or single sim + Micro SD card that to up to 256GB.
Turning the phone to the right side, you get volume rockers and power lock keys which work perfectly fine and made up of metal. We also have Chamfered cut design available on volume rockers and power lock key. This is not enough to get more detailing in the phone Gionee has added color different among all the buttons. We get silver black edge on volume rockers where as we get Red color Chamfered edge on Power Lock key.
Coming to the back side of the the phone you get a 13+5-megapixel Dual camera Setup. Beside that a single tone LED flash and besides that flash there is a hidden IR blaster which also has a great functionality which we see in LeEco device which is way better than MI device just because of added universal remote feature in it. Below that you get a nicely done Gionee Logo which is made inside a circular ring and looks good and coming down you get a Gionee branding and nothing much which need to explain over here.
Display
One of the main USP of Gionee A1 plus is its large 6″ FHD Amoled Display which produce really good colors. It gives us the resolution of 1920 x 1080 and pixel density of 367 ppi, which makes it look better. The colors are vibrant and dark. They are more towards the natural side and feels comfortable to eyes. White balance feels perfect and makes it a pleasant display to use even in bright sunlight. There are different color profiles that you can choose as per your comfortability by going into the setting panel.
ALSO READ: Top Best Selfie Phone in India
Auto-brightness work perfectly, and I have no complaints regarding the display. Watching movies is awesome because we are getting Amoled Display and not any ordinary display. Viewing Angle is good and odd angle won't affect you in any way. Overall I love the display. Then when we are getting this big size in the display the experience of watching movies is awesome.
Performance
The Gionee A1 plus comes with MediaTek MT6757 which is Helio P25 octa-core SoC paired with Mali-T880 and a 4GB RAM. There we get 64GB of internal storage which can be expanded by up to 256GB using a microSD card slot.
Even the device has Helio P25 in it, it can some how to handle all graphic intensive games such as GTA San Andreas, Bully, Batman, Nova 3 and much more on high setting. Asphalt 8 give some frame drops quite a few times don't know why, because all other games are working fine. The best part is that even after playing the games for more than 30 minutes it won't heat up the max temperature I got was 37- Degree that is quite normal that too in Delhi Hot Temperature. The phone functions smoothly even after there even opened all games in the background. I have made a separate video on it check it out.
ALSO READ: Best Phone under 30,000 Rs in India
Overall the device comes with Android 7.0 out of the box with Amigo UI 4.0, which works quite smooth on this processor, sometime while doing intense multi tasking like using word, at the same time using other apps it feels little bit snappy still, i would say it can handle all stuff.
We forgot to mention about the sensors which are available in Gionee A1 Plus so I would say we have all the sensors which a person need a phone you can even use a VR on the phone with no hassle. We also get a IR blaster at the back side of the phone which works well with peel apps loaded on the phone.
Camera
Coming to the most highlighted feature of the phone is its camera, which is 20-megapixel front facing camera which is supported with a front LED flash or i would say front moonlight which dont seems to take shots like a flash. The images captures using the front facing camera of the phone is really great. no pixelation is there, even in low light while using the front camera LIGHT it capture nice shots.
ALSO READ: Best Camera Smartphones in India
We get 13+5-megapixel dual camera setup at the back, both are having color sensors and take my words focus is ultra fast. While taking shots in light via potrait mode colors and focus is really good. I have attached some of the shots taken using Gionee A1 plus and seriously they came out awesome.
Rest you can check our camera review for better experience:
Camera Samples
Software
The Gionee A1 plus comes with Android 7.0 Nougat out-of-the-box with their custom skin Amigo UI 4 on top of it. They have customized a whole lot of stuff in their UI, and I would say it is buttery smooth even after filling the whole 64GB internal storage, with games, movies, and songs. In Amigo UI we don't get any app drawer or on screen buttons just like iPhone.
Overall, the UI is quite good, but the person who love stock then this device is not for you, you will get so many customizations right in your hand out of the box. There are some minor bugs, but we can expect those bugs to be fixed by gionee in next coming OTA updates. Till now i have one OTA update where they have fixed some minors bugs and added group selfie feature.
Battery
Coming to the battery part of the phone here we are getting 4550mAh battery. On moderate or even too high usage, the smartphone will easily last you a full day on a single charge, and even more, it depends on your usage. I was Using Jio Sim + 25 minutes approx gaming, continuous whatsapp, facebook and other social media, some selfies and at the end of the day the remaining battery was 40% which seems to be quite good for me. There we also get some energy saving modes which will further optimize your battery life. You can choose different battery modes between normal mode, power saving mode which reduces performance and finally an extreme mode which will switch off all the stuff and you will be able to use some basic features like phone, contact, messaging in it.
ALSO READ: Best Smartphones with Longest Battery Life 🔋 in India
It also comes with a fast charger and fast charging support and took about approx. 2 hour 20 minutes to charge from 0% to 100% using a stock charger which we get inside the box.
Verdict
Apart from the Price which is Rs. 26,999; I would say gionee has made something different in there now. As gionee is always offline focused brand and will be there future as well. So, when we compare Gionee A1 plus with other available offline brands, this is going to be a huge competition with this great specs, display and camera.
Pros
Great Built (Minor Detailing is also taken care)
Display
Selfie Camera + Different modes
Dual Back Camera 13+5, Focus is really very fast and color came out popping.
Battery Backup
Fast Charging
Getting 2 Years Warranty
Cons
Bit Pricy (If we compare with online market)
Mediatek Processor (still due to UI it manages to work well)
No Led Notification (We Get LED Flash Work As LED notification)