When there is too much competition in the market and when top notch competitors entered into almost same category of product with almost same pricing, they just give a bang in the market and the buyer get so confused that which one to buy. Some of them get towards their brand loyalty and some just ask different people that which one to buy, which one is better.
BUY HERE-   Honor 6X                                         Redmi Note 4
So, this time Xiaomi comes up with its Redmi Note 4 which was launched way earlier in China and now finally comes up in Indian with some major changes in processor and built whereas Honor also comes up with its latest budget device which was launched globally in CES 2017, Honor 6X which is a successor of its previous device Honor 5X. This time Honor 6X comes with a unique and added feature which is its Dual Camera at the back. Due to its price and its Dual Camera Honor catches most of the eyes in CES 2017.
Also See: Best Phone under 15,000 Rs in India
So, Let's Start with some of our points:
Build Quality and Design
Now, these day smartphones with budget also come up with some great built. This time, Both Redmi Note 4 and Honor 6X comes up with some great built and design. Redmi Note 4 back panel is made up of metal whereas top portion and down portion is made up of plastic, the same built can be seen on Honor 6X no difference in there.
But, one thing which i want to mention is that, i will give slightly edge to Redmi Note 4 because it is more compact to handle, even after both the phones are having same screen size. Rest, both are same, i won't complain anything about the built in both the phone.
Now, Starting with the Design part of both the phones, Coming to the front panel of both the phone, at the top side you will get a 8MP shooter on Honor 6X whereas on Redmi Note 4 we get a 5MP Shooter which is obviously a bog difference in starting. Coming little bit down there you get a 5.5″ FHD display on both the phone with a added 2.5D Curve glass.
Now coming to the navigation keys, on Redmi Note 4 you will get back capacitive keys which do light up whereas on Honor 6X we get on screen keys which give slightly edge to Redmi note 4 over here because you get bigger screen to work compare to Honor 6X.
Coming to the down portion of the phones, both the phones look purely similar; because placement of speaker grill and USB port is exactly same. There we get dual speaker grill out of which right one is having the actual speaker and the left one is having the primary MIC in it. Between both speaker grills houses a micro USB port in both the phone and not even single device support fast charging.
Turning the phones to the top portion, there you will get a 3.5mm audio jack and a secondary noise cancellation MIC in both the devices but here in redmi note 4 we have a advantage because on top of Redmi note 4, it also houses a IR blaster which can control your different devices.
Turning around to the right side of both the phones, you will get volume rockers and power lock keys which seems to work perfectly fine no complaints out of it. But one thing which i want to mentions is that personally i feel Redmi note 4 buttons Quality is way better than what we get with Honor 6X.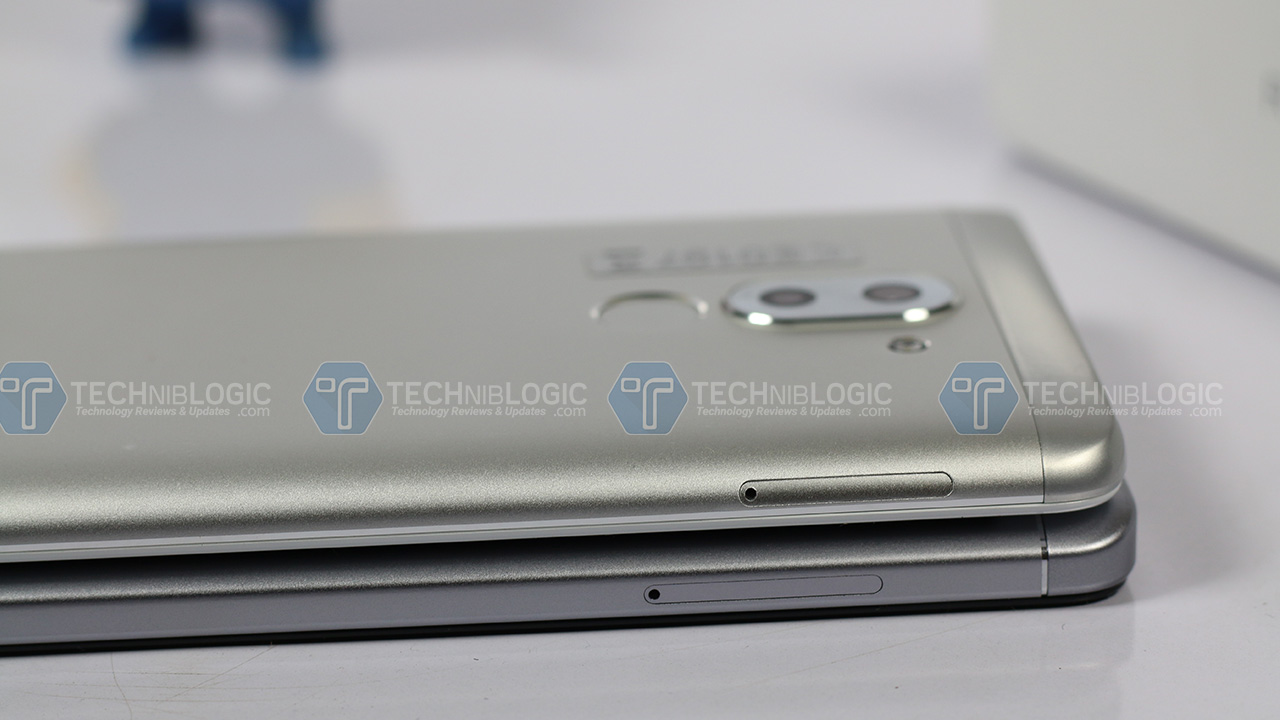 Turning both phone on the left side, where you get a SIM tray slots and the thing is both the phones support Hybrid sim tray and we can;t comment much about it.
Now, turning the phones around, at the back panel of Redmi Note 4 you get a 13MP camera beside it dual tone LED flash and below that a fingerprint sensor which work well; where as when we come to Honor 6X here is a turning point this phone get a DUAL Camera at the back 12+2MP camera which captures really great shots, way better than redmi note 4, beside it you will get a single tone LED flash and below that a fingerprint sensor which also works quite well. The fingerprint sensor of Honor 6X has way more option due to EMUI, when we compare with MIUI 8 on Redmi note 4.
Display
Now, starting with the display quality of Honor 6X and redmi Note 4, both the phones comes with 5.5″ FHD display and a 2.5D curved glass on top of it. The Pixel Density Honor 6X is 403 ppi whereas on Redmi Note 4 it has 401 ppi which seems to be almost same. But after using both the phones for few days i would say on regular usage you wont find any issue in screen quality on both the phones but when we compare both the displays Honor 6X, has slightly better colors and sunlight legibility when we compare it with Redmi Note 4.
Performance & Speed Test
The Performance of any smartphone depends on a processor, so over here Honor 6X comes up with Kirin 655 processor features with a 3/4GB Ram, whereas Redmi Note 4 comes up with Snapdragon 625 processor with the support of 2/3/4GB RAM, both the processor are almost on the same line up, but here Ram and UI plays up a very vital role in their performance and speed.
| | | |
| --- | --- | --- |
| Benchmark | Honor 6X | Redmi Note 4 |
| Antutu | 56349 | 62153 |
Gaming performance on both the phones are decent and you won't be finding any kind of lag, snappiness and frame drop on normal gaming. I have already made Gaming review for both the phone you can check it out.
Also Read – Honor 6X Full Review
Coming to the GPU part, Redmi Note 4 is loaded with a Adreno 506 whereas Honor 6X comes with Mali T830MP2. Still, both the phones handle almost all games with no complains. Due to best possible skin on Android on Honor 6X (eMUI) as well as on Redmi note 4(MIUI 8) you won't even find any lag or sagginess while doing intense multi tasking.
BUY HERE-   Honor 6X                                         Redmi Note 4
Camera
Camera part which is nowadays the main part for any smartphone. Starting with Redmi Note 4 which comes with 13MP back camera and dual tone LED flash., Capture decent images which great bokeh when we compare it with there previous Version Redmi Note 3 but when we come up to Honor 6X which is specialized in its camera with its Dual Camera setup of 12+2MP but with single tone LED flash. I would say Honor 6x Camera is way much better when we compare it with Redmi Note 4. The bokeh effect the colors, saturation, detailing each and everything is way better on Honor 6X.
Same Quality difference is there in Redmi Note 4, 5MP front facing camera. Honor 6X 8MP front facing camera captures much better images.
The clear winner for camera is Honor 6X, rest you can check our camera comparison video for better idea.
Battery
So, over here Honor 6X comes with 3340 mAh Battery, whereas on Redmi Note 4 comes with 4100 mAh. Both the device don't support any kind of Fast charging and give quite good battery life. As Redmi Note 4 has bigger battery and one of the best UI in the market the clear winner for battery is Redmi Note 4.
Honor 6X will give you intense stand by time, like if i use Redmi note 4 continuously it will easily give me a battery life of almost 2 days, whereas if you use Honor 6X in same condition it is going to give me the battery life of 1.5 Days.
Software
Now coming to the software aspect of both the phones. Both the phones comes with Android 6.0 out of the box with the skin of eMUI on Honor 6X whereas MIUI 8 on Redmi Note 4. Both the Roms are one of the best in the market with no lag and any bugs as of now. Both the roms are stable and i do not have any complaints for any of the ROM. Some of the features of MIUI 8 is way better than honor 6X and vice versa.
As per the company, they are going to release the Android 7 update soon on both the devices. SO, again this is the positive point for the buyers.
Verdict
So, my final verdict after testing both the phones is, if you are Xiaomi lover and like its UI and Built then go for Redmi note 4 rest, if you want, better camera, better Display, and a overall best device in that price than Honor 6X is meant for you. Rest both the devices are good, if redmi has made better availability of redmi note 4, with better camera then i would have suggest redmi note 4.
Also See: Best Phone under 15,000 Rs in India
Rest it depends on you, which one to go for.
BUY HERE-   Honor 6X                                         Redmi Note 4