There are many best loan apps in India but if you are a student you cannot get any loan from them. Students are those groups of individuals who aren't yet working full time to have enough savings, and mostly in India, children are dependent on their parents until they start working. Students can run out of funds to pay for their additional bills, sometimes they need money for purchasing study materials, participating in competitions etc.
Also Read: 14 Best Website to Watch Cartoon Online
It can get awkward and embarrassing while borrowing money from your friends. Therefore you can use these Best Loan App for Students which offers personal loans for students as well as these online student loan apps would save you time that you may spend in getting loan approval from banks that too for a small amount of money.
You May Also Like to Read:
In this article, after checking many student loan apps we have shortlisted the Best Loan Apps for Students. These would be helpful for those seeking financial support but are unable to get it from their families or friends.
Best Loan App for Students 2023

1. Cash Bean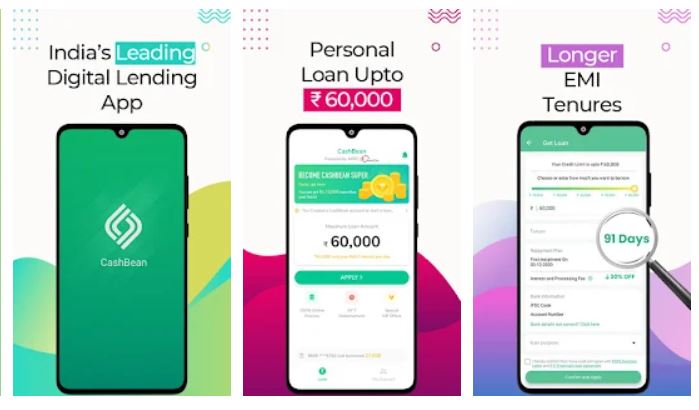 This is one of the Best Loan App for Students. You can loan as much as Rs 60,000 from the Cash Bean app with interest rates up to 33% per annum and an 18% processing fee. CashBean is a product of P C Financial Services Private Limited which is registered under RBI. Hence it is a trustable source.
Also Read: Top 9 Best iOS Emulator For PC
The process of getting a loan is paperless and is fully digital, you also do not require any credit history to get a loan. To get a loan approved, you have to be an Indian resident, with a monthly source of income and of age 21-56 years.
Install: Android
2. KreditBee
This is another best loan app for students in which any student can loan up to Rs 2,00,000 from KreditBee. Interest rates on KreditBee can vary from 0%-29.95%. The process of acquiring a loan is entirely digital, the number of documents required by the company is also comparatively less.
Also Read: Best free CAD software to download
Hence the documentation part is quick and easy. You need to be an Indian resident aged 21 years or more, with a monthly source of income.
3. Dhani – Best student loans app
Our third best loan app for students is the Dhani app in which any student can loan ₹ 10,000 to ₹ 15 Lakhs, with tenure ranging from 3 months to 36 months. Isn't it Great! Loans from Dhani have interest rates ranging from 1.2% to 3% per month, and Processing Fees range from min 1.5% to 6% only. You can also take medical insurance, you can also play games on the app.
4. mPokket
If you are looking for the best pocket money loan for students in India, then mPokket is for you. It offers loans from as low as Rs 500 that can go up to Rs 20,000. mPokket is best for college going students and young professionals. This app is open to all students across the country. All you need to get a loan from mPokket is your college ID card and address proof. For young professionals, ID and address proof, along with a payment slip and bank statement is required.
Also Read: Best Oneplus Phones under 20000 Rs in India
The process is entirely online, and getting loans from mPokket is very simple and quick. This app is one of the best loan app for students if you have small expenses like tuition fees, trip funding, hostel fee, money to purchase books etc.
Install: Android
5. Money View Loans
You can borrow any amount ranging from Rs 10,000 to Rs 5,00,000. Monthly interest rates start from 1.33%. It is available in over 5000 locations in India. The app provides you with custom loan offers. The procedure is quick, and you can get your desired amount within 24hrs.
Install: Android
6. Bajaj Finserv
Bajaj Finserv is one of the most trusted best loan app for students, you can get personal loans with an EMI calculator, Fixed deposits with FD calculator, doctor loans etc. The app is available in 14 different Indian languages, so that language does not become a barrier for anybody when trying to borrow money, and every detail is well understood by the borrower. The finance amount is a minimum of 30,000 to a maximum of 25 Lakhs with an interest rate of 2% per month.
7. ET Money
You may use ET Money to keep track of your expenditure, invest in different kinds of Mutual Funds, and can help in planning retirement and pension via NPS. You can also secure your financial future through Term Life & Health Insurance, investing your savings in Fixed Deposits is also another option. The app also gives you your portfolio analysis to help you with ideas to improve returns and reduce the risk factor.
8. Kreditzy
We are close end of our Best Loan App for Students list, Kreditzy is another student loans app which you can use. Kreditzy offers loan amounts ranging from Rs 1,000 to Rs 1,00,000. The maximum interest rate is 29.95% per annum. The application process is speedy and you can actually finish it in just 10 minutes. The process is entirely digital, and you do not require any credit history for its approval.
Also Read: 10 Best Rainmeter Skins for Windows [Free Download]
One good part about it is that it is available across pan Indian, so there are no limitations based on your residence. To be eligible, you have to be an Indian resident of 21 years or more with a monthly income equal to or more than Rs 17,000.
Install: Android
9. Slice
Here is another best loan app for students called Slice. You need to have a slice card which is a flagship product of the Slice app. You will get a credit limit from Rs 4,000 that can go up to Rs 1,00,000. You can get a virtual card for online transactions and a physical card for offline transactions.
Also Read: 10 Best Free Texting Apps for Android
You can then repay your card spend over the next month with no extra cost or convert it into EMI. The eligibility criteria of Slice is that the consumer has to be an Indian resident ageing 18years or more. You do not need to have a credit history to get loans from Slice.
10. GotoCash
You can borrow as much as Rs 50,000 from GotoCash. The processing fee can be up to 16% of the loan amount in addition to 18% GST. All Indian residents from anywhere in India are eligible to get loans from GotoCash. There is no pre-payment penalty.
Install: Android
11. Pocketly
As their motto suggests "Credit for Young India", that's what they do. This is one of the best loan app for students that you don't have to pay any kind of annual fee or joining fees. With no hidden charges, this has become a popular choice amongst students who are looking to borrow some money from time to time. The credit by default starts at Rs. 600 but with good behaviour I.e timely repayment of the credit, one can increase their limit to up to Rs. 10,000.
Also Read: Best Groovy Bot Discord Commands
It has flexible EMI options and there's no requirement for physical documents while signing up. Scanned copies of your document will just do fine. They have 24 x 7 support in case you have any queries or confusion regarding any of their services.
Check out: Website
12. Redcarpet
It's another one of the popular best loan app for students out there. You can easily get loans in minutes and it also comes with multiple buys now pay later options. You don't have to perform any kind of paperwork while trying to sign up for this application.
Also Read: Top 15 Best Live TV App For Android in India
All you need to do is upload your KYC documents, apply for their card or any kind of personal loan and it's done. All you have to do next is to repay that amount on time so that it doesn't affect your credit score. If you are using their card and you keep repaying the credit on time you will have a boosted score in no time. Their RedCarpet Ruby Card comes with an instant credit so that's something that you can explore if not looking for a direct loan.
The only case where your loan application might be rejected is if the calculated credit score is less than their requirements.
Check out: Website
13. Sahukar – Instant Loan
This is also one of the best instant loan app in India for small amount loans. It is available to provide personal loans. Students can borrow amounts ranging from Rs. 500 to Rs. 5000 for durations such as 1 month, 2 months, or 3 months.  In most cases, students aren't eligible for a credit score so this application has brought its own scoring criteria known as the Sahukar Score. It helps with uncluttering complexities to get a loan without any hassle.
Also Read: 20 Best Apps for Amazon Fire TV Stick
All the documentation and verification are done digitally and you can access those funds directly into your Paytm or bank account. You can pay back the borrowed amount in easy instalments and never worry about running out of money at odd times.
Sahukar makes sure that this whole process remains transparent with no hidden charges.
Install: Android
14.BadaBro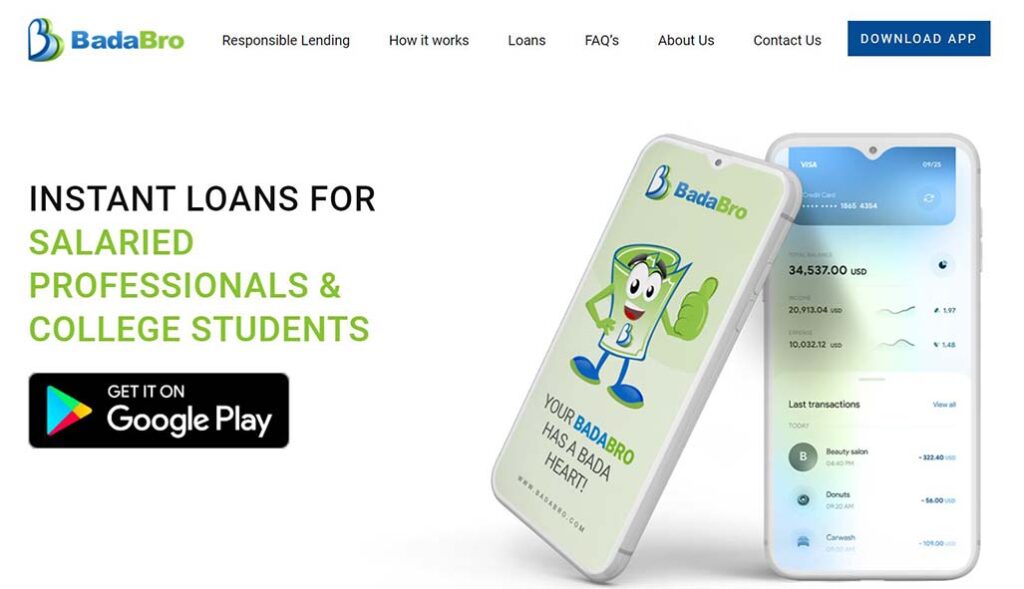 BadaBro is one of the best instant loan app for students in India and they claim that it's designed for college students and salaried professionals. With instant loan approval and credit to your bank account, BadaBro has a customer base of over 100,000 people.
You will require your Aadhaar, PAN, and Employee ID (if applicable) and some other basic details to sign up and complete your profile. The process is completely digital and you will be ready to access the loan amount once your credit score is verified.
Also Read: 10 Best VPN App for iPhone
Eligibility for this requires you to be a citizen of India, must be above 18 years of age, and have a valid Bank account, KYC valid address proof, PAN Card, and a valid employee ID. They provide a basic limit of Rs. 1000.
Check out: Website
How to apply for an instant loan?
There are multiple vendors, websites, and applications that claim to provide an instant loan within minutes or within the same hour after applying with almost no or zero paperwork. In order to avail yourself of this instant loan, you have to submit some documents and complete your KYC.
This might vary from website to website on what kind of information they want to gather from you but on average, most of the websites will ask for your PAN, Aadhaar Number, and Basic KYC information as they also want to make this whole process seamless and hassle-free for you.
Also Read: 10 Free Instagram Reels Video Download Online
You don't even have to put up any collateral for this as it's going to be a small amount in most cases. You don't even have to make a trip to the bank and wait in endless lines for hours and hours.
Why use loan apps for students?
There are multiple reasons why students need an instant loan. For example – in case they are falling short on funds for their admission or exam fee or if they are falling short on rent. These random cases can happen to anyone and at any time. In this dark hour, an instant students loan app can come to the rescue. An added bonus is that you don't have to put up collateral or deposit a security fee to get the loan disbursed.
Also Read: Best Doom Wallpaper 4k & HD for PC & Mobile
And the added bonus is that the students don't have to visit the bank in order to access the amount as it would be transferred directly to their own account.
My Thoughts: Best Loan App for Students
All these best Personal loan apps are quick and accessible. The process is entirely digital, loan approval is quick, and you need very few documents to borrow money. Also, the eligibility criteria are not too complicated. My recommendation for the students would be to get loans from mPokket, simply because students, mostly the college-going ones, do not have a lot of expenditure.
Moreover, they are highly unlikely to have a monthly source of income from full-time jobs, mPokket in those cases is perfect for such people. It is easy to borrow money from them, you just have to have your college ID card and address proof to be able to get loans. There are also no geographical limitations and restrictions on people belonging to diverse places in India. Hence, anybody can easily get a loan from mPokket.
Also Read: 7 Best Procreate for Windows 10 Free Download
If you have any app suggestions that you think we should add to our list of Best Loan App for Students, please feel free to drop a comment, we are always open to new ideas and suggestions. If you like our content, please do bookmark our website and stay tuned.