We have achieved so much in the technology. Every moment there is a new product coming on the market with an amazing concept. And in that horde of product and technological advancement, there is this one device that is making a slight change in the way we listen to music. Yes, we are talking about Mass Fidelity Core Bluetooth speakers, which is not just any speaker but is a speaker with Holographic Sound technology. WOW.
What is Holographic sound?
To explain the Holographic sound, first I have to explain what is stereo sound. So, Stereo Sound is music composed in such a way that all the instruments and vocals are resonating together. Which gives a good sound quality but the sound sits in your head, more like a hole in the middle. For example, listening music in headphones. Some of the best headphones can shift the music a little bit further and give some adjustment, but that's been like for decades.
Also See: Top 5 Upcoming Gadgets #Week1
When you're listing music in headphones, you can't really tell that the Cello is sitting on the left and the drum guys are behind the stage. What I'm trying to say is that the Stereo music is amazing, but it's not realistic.  With Holographic sounds that barrier can be crossed, we can listen to realistic music and define each node as if all of the instruments are sitting behind you.
How does Core Wireless Speaker work?
The Core Wireless Speaker is a single speaker module, which is designed to produce true Stereo sound. That means, this device can give headphones like stereo experience, which may seem a little bit crazy but it's true. There is no hidden speaker or anything, just one.
The Core uses a Wave Field Synthesis technology, which gives it the ability to fill up the room with stereo sound. Means, wherever you are in the room, you will be able to hear the true stereo sound. Just like that. Connect it to your phone via Bluetooth and start your music. And you're good to go.
Features:
Holographic sounds with a single
Bluetooth 4.0 for a better
12-Hour long battery life.
Can be used as a power bank for your smartphone.
Why should I buy it?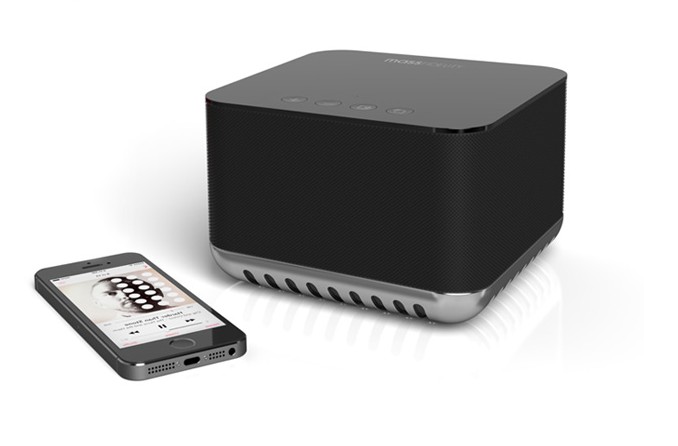 So far, the device is an amazing concept with an awesome technology. With this, you don't need to have two speakers for stereo sound. This one little box can fulfill your need. That best part that we like the most, is that it fills up the room with stereo sound. Means, multiple people can listen to the same music, that too in stereo. It's amazing.

Also See: Top 5 Upcoming Gadgets #Week2
Availability:
The device is a commercial success; it was first an Indiegogo project, but with numerous funding, it became successful. The device is available on Amazon.com worldwide with a shipping charge. The retail price of the device is 599$ but you can buy in less if you hurry; they are offering discounts.
Thanks for hanging out with us guys. Please do drop your suggestion and ideas in the comment section below. If you want to keep tabs on a more innovative product like this, subscribe to our website. And don't forget to give your reaction.