OTT Platforms are very popular these days, which gives the power to watch any show or movie anytime on your TV or Mobile without being downloaded. There is a lot of new Over-the-top platforms in India in past years. These OTT platforms are using a new era of technology to stream continuous visual data to millions of users at the same time. 
Also Read: 80 Best Hindi Dubbed Web Series on Netflix India
No doubt OTT platform streaming is growing as the next important thing in the world and the OTT streaming applications bring great profit to their creators as well as give end users non-stop entertainment. Though there are many OTT platform streaming services in India available, to save your time here is the list of the top best OTT Platforms in India.
What are OTT Platforms?
OTT stands for over-the-top which means providing shows and film content over the internet whenever the user request or as per the requirements of the individual user.
Also Read: 5 Best Mystery Movies On Netflix India
In the new digital era, the OTT platform plays a very important role as it finally replaces the big Indian cinema where people buy individual movie tickets and go outside to watch one movie. But now people pay for a monthly or yearly subscription and watch every new movie or show at any time anywhere as per their want.
Top 10 OTT Platforms in India
1. Netflix
It is one of the most popular and widely used OTT platforms for watching online movies and online tv series. It is available on various platforms and costs 500 INR per month, but for new members, all the services offered by Netflix are free for one month.
Also Read: 10 Best Suspense Thriller Web Series Hindi Dubbed on Netflix
It has multiple ranges of titles and offers excellent original series content, and support for 4K, HDR10, and Dolby Vision. Netflix allows you to enjoy unlimited viewing of the content without having to watch a single commercial advertisement.
2. Amazon Prime Video
Amazon offers an OTT Platform known as Amazon Prime Video. It includes various channels like Anime Strike, HBO, SHOWTIME, STARZ, and others. This is one of the Best Premium OTT platforms out in the market. The best prescription offered by Amazon Prime membership costs Rs 1499 per year. For a monthly plan, it'll now cost you Rs 179. One of the best features offered by this video streaming application is that users can save videos for offline use also.
Also Read: 5 Best Hidden Gems on Netflix India you don't want to Miss!
You will also get a lot of Amazon services like prime shipping, amazon music etc. for free with an Amazon Prime membership.
3. Disney+ Hotstar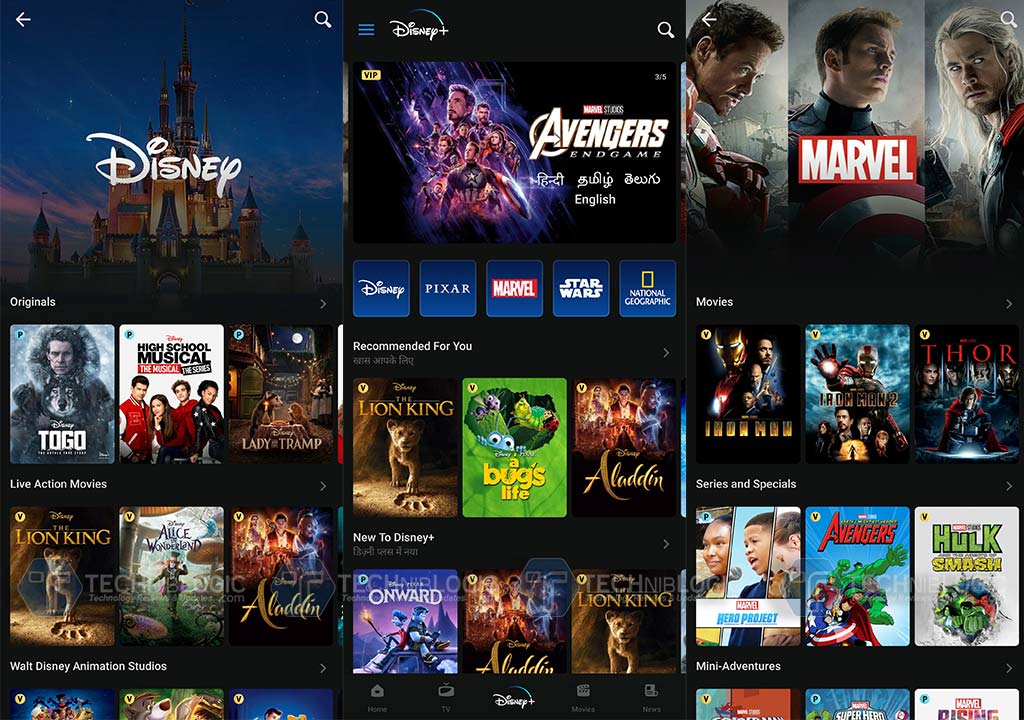 Just like other OTT platforms, Hotstar also offers online videos and is owned by Novi Digital Entertainment Private Limited. It offers 50,000 hours of movies and TV content and supports 8 languages. With Hotstar you can have a video experience like no other application. With this video streaming application, you can have a splendid video experience on both mobile networks as well as Wi-Fi internet connections.
It is easy to use the application because of its user-friendly interface. The membership charges of Rs. 299 for the Sports pack and Rs. 999 Hotstar Premium plan is non-refundable. The Rs. 199 Hotstar Premium plan comes with a 7 days trial and the money is refundable if the plan is cancelled within the first 7 days.
4. Zee5
It is the online video streaming Over the Top (OTT) platform. It offers 12 navigational and featured languages. Zee5 offers a wide range of content; with 90+ live TV channels and 1.25 lac+ hours of video viewing and covers the languages of English, Hindi, Bengali, Malayalam, Tamil, Telugu, Kannada, Marathi, Oriya, Bhojpuri, Gujarati & Punjabi making it a complete video destination for OTT viewers.
Also Read: Top 15 Cool Android Games under 50MB (You Must Download)
This OTT platform is easy to use as it offers a user-friendly experience. It also includes features like language Navigation, Seamless Video playback, Smart Content Search & recommendation, the option to choose video quality and much more to create a video experience like no other. The subscription charge to use this application is around Rs 199 per month.
5. SonyLiv
It is a video on demand service which is owned by Sony Pictures Networks India Pvt. Ltd and it is the source of the best entertainment that offers non-English content which is not available on other platforms.  It is a mobile streaming app that allows you to watch your favourite movies and TV shows.
Also Read: 10 Best Apps for Playstation You Should Install
This video streaming app supports Chromecast and offers live sports. The major drawbacks of this application are that it is a subscription-based application and contains a lot of advertisements.  For Mi users, the subscription charge for this application is Re 1 only otherwise the subscription charge is Rs 49 per month. The premium package is available at Rs 120 for 3 months.
6. MX Player
This application is known to integrate all forms of entertainment into one OTT platform. You cannot even use this app to play videos on your Smartphone, but you can also use it to share files, music, apps, and more with a click using MX file transfer. It is a top best app that can be used as an offline video player and online streaming and audio music.
Also Read: 10 Best Online Games You Can Play With Friends Over The Internet
It is free to download and gives you access to 100,000+ hours of content on your favourite app across Movies, TV Shows, Web series, Music Videos, Sports, and News in over 10 regional languages. The app is easy to use and comes with a pinch to zoom in and out feature. The subtitle gesture feature allows you to scroll forward or backwards to move to the next or previous text.
7. VOOT
Did you miss watching your favourite MTV shows because of your busy schedule? Well, don't worry! Voot is Viacom18's Premium video-on-demand platform, and it features your favourite shows and movies. The app offers tV Shows from Colors, MTV, and Colors Infinity. Comedy Central, etc. You can even go for premium and exclusive services from Voot.
Also Read: 7 Best Racing Game for Android & iOS
These services include unrestricted, ad-free access to international content, live events, and thrilling Voot Select Originals, alongside features like watching episodes of/ the bigger blockbuster reality shows 24 hours before TV. Speaking of Live TV channels, the app can be used to stream Colors TV, MTV, Comedy Central, and many more channels LIVE with Voot Select.
8. Discovery Plus
If you are a nerd like me, this OTT platform is for you. We all watched the Discovery channel on our cable. This is an official Discovery app that gives you all the shows, documentaries and much more in its app.
Also Read: 8 Hidden Google Games That you Must Play
The Discovery plus premium subscription starts at Rs. 399 for one year in India. As we come to its monthly subscription plan, it is priced at Rs. 199, and both of these plans are available for single-screen use.
9. Jio Cinema
This is another great OTT platform owned by Ambani. It has its own pricing but Jio bundled this app with its Jio SIM so you don't have to pay extra to watch your favourite movies on it. Because of Jio network popularity, It is one of the most widely used OTT platform apps in India.
10. Airtel Xstream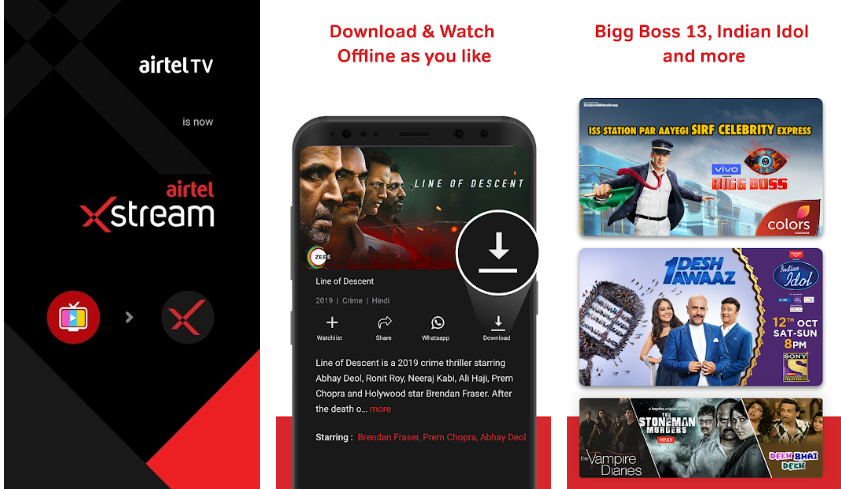 Airtel Xstream offers the best of everything be like LIVE TV, Movies, TV shows or Originals. With 350+ channels, one can experience the traditional television on their smartphones and you can also enjoy sports, daily soaps, news and many more. It offers 1000+ amazing movies and you can stream your favourite TV shows and originals. The key feature of this app is that you can enjoy your favourite show from the beginning even if you are logging in late.
Verdict: Top 10 OTT Platforms in India
Among the above-mentioned video streaming applications, the best OTT Platforms that I personally recommend is Netflix and Amazon Prime. The reason for choosing Netflix is because it is one of the best Video Streaming Apps that has some of the largest media libraries, they offer content from various countries to all of its premium subscribers.
Also Read: 12+ Popular Google Doodle Games (3rd Game is Best)
Apart from that, they have got some of the best original content that you can binge watch. Amazon Prime Video and Hotstar is also a good option as it helps round out the experience overall.
FAQ about OTT Platforms in India
What is OTT stand for?
OTT stands for over-the-top
Is Netflix an OTT platform?
Yes, Netflix is an OTT platform
What are examples of OTT platforms?
Netflix, Disney Hotstar, Amazon Prime, SonyLIV etc. are examples of OTT platforms.
Which is best OTT platform?
I personally think Netflix and Amazon Prime are the best OTT platform in India right now.
How many OTT platforms are in India?
There are a lot of OTT platforms in India, these days every content creating company is launching their own OTT platform to earn more money and built its own audience. We have filtered out the top 10 OTT platforms in India that are most popular these days.
If you have any suggestions for the Top 10 OTT Platforms in India list which one is your favourite? feel free to contact us at [email protected], we always welcome new ideas. Thank you and stay subscribed for more content.