There are plenty of gadgets in the market, but only few them catches our eye. And when you are looking in the smartwatches market, we have to admit that every random watch looks the same. There is just no excitement left. Well, don't worry. We might have found a product that is going to change the way we use and understand smartwatch.
ZeTime is the world's first smartwatch with hands over touchscreen. That means, it is a mechanical smart watch hybrid. WOW. This is something interesting.
How ZeTime works?
The ZeTime looks exactly like any other smartwatches but with two mechanical hands. Beneath the hand, there is a round TFT Touch display, which works as a smart interface. The device is a mechanical smartwatch hybrid, that means it has both the component of a smartwatch and a mechanical watch. Now, the most important question is, are the hands going to get in the way when you touch the display?
See Also: Top 5 Upcoming Gadgets #Week1
So, first of all, the display is protected by a Sapphire glass. That means you are not going to touch the mechanical hands of the watch. But whenever you're going to touch the display, the watch hands will automatically move in order to maximise the display. The mechanical part of the watch is also programmed with the CPU, which means the time will always be synced. Amazing, isn't it?
Features:
The battery performance of the device is insane. In one charge the device can work up to 30 days on mechanical mode.
The device is also water resistant up to 30 meters. (Future upgrade)
Navigation mechanical button, to navigate the smart menu and the mechanical hands.
The device also features an optical heart rate sensor.
It also comes with interchangeable stylish bands.
Just like any other smartwatch, it can keep track of your daily notification and messages.
Activity and sleep tracking.
Why should you buy it?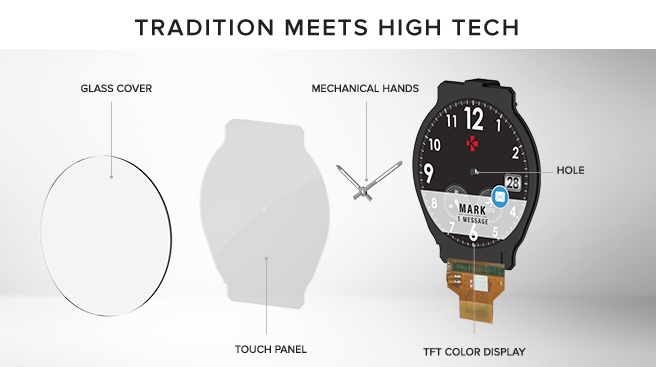 Well, to be honest, If you're bored with your smartwatch than this is the device for you. It has the functionality of a mechanical and smartwatch, that makes this product unique and amazing. It also gives a 30-day long lasting battery life. The plus point of the device is that you don't have to turn on the display every moment when you want to know the time.
See Also: Top 5 Upcoming Gadgets #Week2
Availability:
Since it is a start-up. The device is not available at e-commerce website such as amazon but it is available worldwide with a shipping charge from Kickstart.com. The retail price of the device is 119$ but you can buy in less if you hurry; they are offering discounts.
Thanks for hanging out with us guys. Please do drop your suggestion and ideas in the comment section below. If you want to keep tabs on a more innovative product like this, subscribe to our website. And don't forget to give your reaction.